5 Personality Traits That Set Entrepreneurs for Definite Success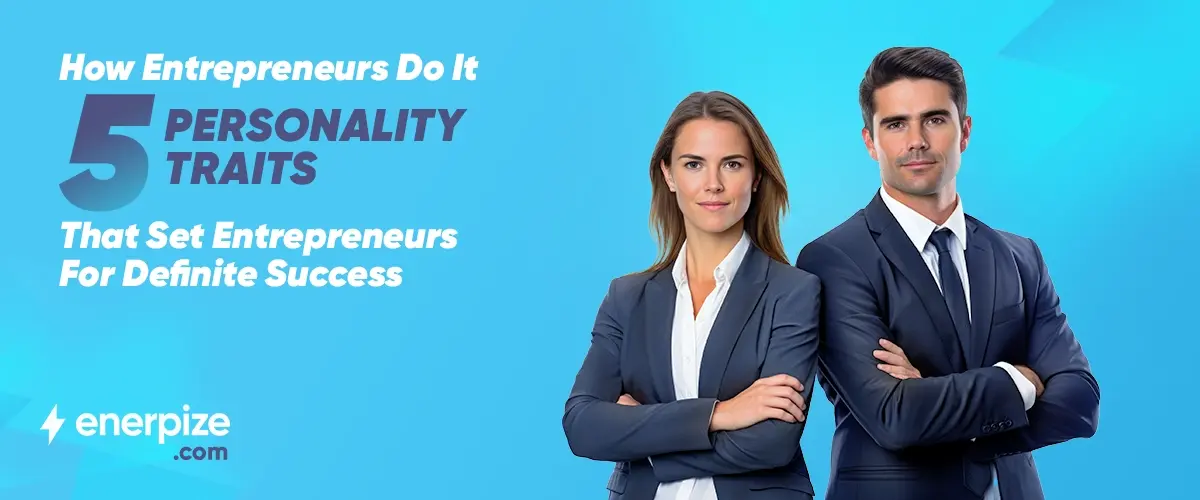 Ever wondered what it takes for an entrepreneur to be successful? Despite starting their own business, facing financial burdens, fierce competition, let alone having to show up as their own boss and sole motivator, somehow some entrepreneurs make it till they stand up on their feet and build their business a solid ground to stand on. Is it a secret formula only they know of, an ace up their sleeves or some certain entrepreneurial genes they're born with?
Other than the inevitable harder than hard work an entrepreneur invests in their gig, we've jotted down a list of the five key traits in their personality that set them to sky-rocket success and make their business thrive.
1. Passion
"If you're starting something on your own, you better have a passion for it, because this is hard work." -Sallie Krawcheck, Co-founder of Ellevest
Needless to say, passion makes #1 on our list for a reason. While their endeavor is their means of making a living, entrepreneurs are merely business owners. Successful entrepreneurs have taken the road less traveled; they have done the work of knowing what they love, what their purpose is, and translating that into a business idea they want to keep for life and a brand they wish to bring out into the world.
Loving what they do already gives them an edge in the business landscape as they are driven, self-motivated with passion and eager to achieve their business goals. With passion, entrepreneurs become productive, stress-tolerant and devoted.
2. Vision
Every achieved entrepreneur is a visionary at heart; it's how it all starts in the first place.
Visionaries have the ability to foresee a destination they believe is there and invest all their resources into reaching there. They not only view things from a bird's-eye view, but they're also detail-oriented. They have a clear vision, their own set of values, are set on a clear purpose and when they do, everything they do aligns with this vision, they remember their why, remain focused and never fall from tracks when things go south.
In turn, they are creative (No, you don't have to envision someone painting on a canvas), nevertheless, their business is their canvas, they have a different view of things which makes them creative-thinkers and opportunity-seekers.
3. Flexibility
Successful entrepreneurs aren't tied down to a certain idea of what their business should look like, they are constantly adaptive to their consumers and market demands. They have openness to new ideas and are always willing to strategize differently, ready with plan C.
With the potential of success, but also failure, on their mind, they're ready for everything from hard hits to great accomplishments, they have a target with laser-focus on and are set on a tunnel vision they never lose track from while being creative enough to change their plan as they need to as long as it aligns with their purpose and values.
Entrepreneurs welcome change and think of risk as an ally and possibly a teacher. For their species, it's an opportunity to learn or ultimately alter their course to their favor.
They aren't tied down to a role as well. Lots of entrepreneurs are aware that at times they are obliged to be the jack of all trades, living the start-up life and experiencing resource limitations, from developing a business strategy, managing finances, hiring a team, and keeping up with projects and deadlines, which pays off in the end with more hands-on experience. They're self-learners with a been-there done-that attitude.
4. Self-discipline
Ever missed a deadline, procrastinated, chose a warm blanket in a cold morning over showing up? Yea, we've all done that. Successful entrepreneurs on the other hand cannot do that. Their self-discipline muscle is strong and game-on, they hold themselves accountable and spread the contagion across those working around them. They're always on the front-line which gives them the upper hand, from managing their own self, motivating their team, setting the deadline and also sticking to it, taking the initiative and constantly learning to stay updated. It's hard, right?
But successful entrepreneurs treat their business like their little new-born. You wouldn't mistreat your baby, would you? You would nourish it, invest in it, feed it on time, give it time, money and effort and power through to see it flourish. With this much dedication, entrepreneurs are bound to reap the fruit of their labor.
5. Resilience
"Tough times never last, but tough people do." - Robert H. Schuller
Being resilient is easily the most urgent trait on the list. It's the essence of the entrepreneurial personality that holds all the other traits intact. Perseverance when the going gets tough along with patience, experiencing shortcomings or setbacks, while still dusting up and trying again is surely the recipe to success.
Enough tenacity helps build consistent momentum for entrepreneurs and surprisingly, prepares them for success. When they fail, they don't lose motivation or dwell in defeat and when they succeed, they don't settle and stop there.
Whether naturally-born with it or self-developed, one thing is certain, being a successful entrepreneur is no easy feat, with all these factors at play, however it is a worthy rewarding investment once you put your mind up to it.
Since you're here, need inspiration? Here are 32 motivational quotes of top seasoned entrepreneurs to help you kick discouragement back to the curb.
Enerpize is dedicated to supporting entrepreneurs. Looking for help managing your business? We offer a cloud-based software with features that you can customize to your industry. Click here to try it out. It's free!