What is HR management | HRM Definitions and Importance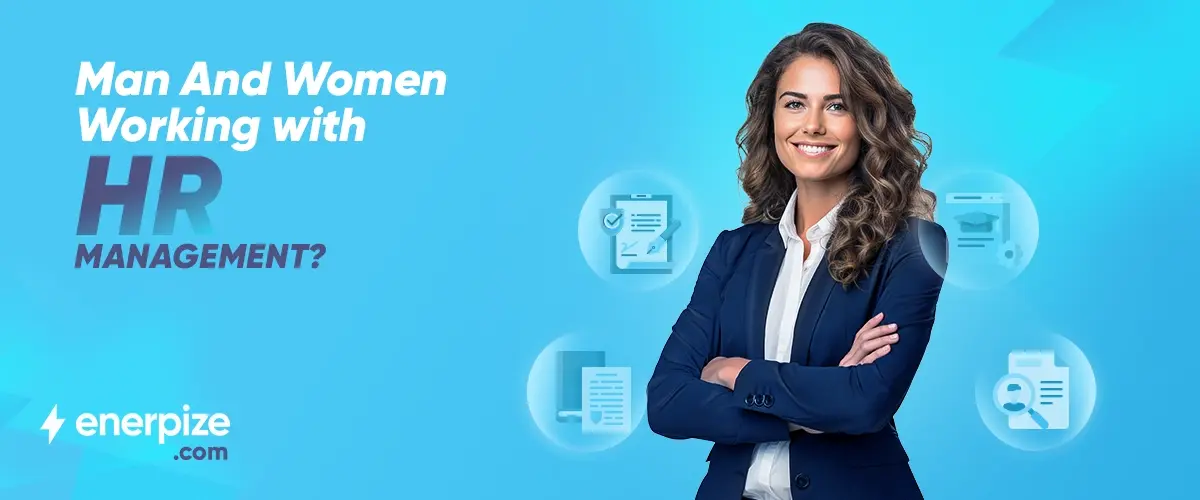 Human resource management, or HR management, is a simple term that is easy to grasp from afar, but it can be a hassle to handle and implement once you start your own company. But don't worry; we'll cover all of the issues you may encounter when managing your employees' affairs in this post. Starting from what's HR to how can you manage it successfully.
What Is Human Resources (HR)?
Human resources refer to the people who work for a company or a business sector. The HR department is in charge of monitoring the various affairs of employees, such as wages, jobs and recruiting, workers' compensation, and ensuring that employee files comply with labor law and government regulations.
Therefore, any business owner must ensure that their HR management is top-notch. To avoid human error, companies usually use HR management software to handle all financial responsibilities, which we will discuss in a bit, while others employ specialists to do the job, and even those specialists may rely on software to make their lives easier.
What is the importance of Human resources for business?
HR is undeniably necessary because there would be no business without it, at least not one that is profitable. There are some elements of human resource management that you should follow because if you don't, you could end up in a legal situation that might result in prison time if the harm is serious.
Difference between Personnel management and Human resource management.
It's common to get these two words and meanings mixed up, but there are significant differences between them. Personnel management is a branch of management concerned with staff and their interactions with the organization.
However, this word is no longer widely used because it is obsolete and ineffective. Since it forces the company to see its workers as machines rather than individuals with diverse perspectives and experiences. Human resource management on the other hand is a modern version of it that is more effective and treats workers as assets to the business, allowing it to expand even faster.
Consequently, if the employees are happy and pleased, it will positively manifest in your CRM.
What is an employee handbook?
An employee handbook is a document that contains instructions and general details that an employee will need to understand his or her responsibilities and rights to the business. Of course, it does not have to be a physical book; instead, it can be a simple sheet with all of the necessary details.
It could include things like the company's vision, mission, and values, among other things...It may also include the company's strategy, policy, and guidelines, all of which must be followed.
What Are HR Manager Responsibilities?
For instance, the recruitment and the process of calculating employees' wages and benefits and their attendance must be completely accurate.
HR management is also in charge of ensuring that all workers are united and working for the organization's vision and purpose so that not only the company but also the employees thrive and feel like they're contributing to something greater than their own personal gain.
The Hr team will need to determine the hiring needs for the business and do the interview and selection process to make sure to select the best employee.
Before all that, they'll need to post multiple ads on many job portals and put a very thorough description for the job seeker, and filter between the candidates.
It goes without saying that there must be a mechanism in place to track both individual and collective performance in the organization to ensure that all is running smoothly. Employees must also receive reviews on their results to ensure that they are on the right track, as well as be motivated.
It also involves assisting workers in becoming their best selves at work, thus enhancing the bottom line of the business. Performance management systems may also identify flaws that need to be addressed for specific employees or the organization as a whole.
Furthermore, each new employee will need training, so it will be the responsibility of the HR department to ensure that the workers are familiar with the company's regulations.
HRs can also assist managers and assist them in growing if they have potential that can be developed through training.
A professional HR manager will have to put a solid strategy in case thstt one of the employees decide to leave, especially if this employee is at a senior level in the company.
Think of it as a monarchy system they always put a plan of who's next in line. And it the same but based on the qualifications and performance of the employees.
Compensation and benefits
One of the main tasks for HR is monitoring benefits and compensations. HR management must be able to achieve fairness and equality while completing the task. For example, ensuring to offer the employee an offer that is compatible with the company's budget and profits. Furthermore to always keep an eye if there's a pay increase or changes to the perks of employees according to labor law.
When we talk about compensation and its system, naturally, it differs from one organization to another but there are some basics like setting up money for salaries however it's monthly based or task-based. There are of course extra compensations like if the employee will need a car to perform the tasks, flexible working hours, or extra holidays, etc...
Ofen HRs will use HR management software to build up important information on both employees and performance. Nowadays you'll find that many digital options make this tracking much easier. Many tools can be used to track the process of payroll from calculating expenses to sending payslips and much more. This Payroll guide may set you up with few things about it that will be needed.
Also, many systems help implement succession plans, tracking applicants and hires like the Applicant Tracking System, or ATS, and some use Learning Management System (LMS), which keeps track of internal content delivery. To not waste time and effort, recently some systems gather all these functions in one system to make it easier to access.
The last but not least responsibility of HR is to collect and enter data and analytics. Data is now like diamonds for every enterprise because it allows you to calculate how well the company is doing.
The HR metrics, AKA HR KPIs. are a simple way to keep track of this important data. Which can be used later in the HR reporting that focuses on the organization's current and previous state. HR analytics can also be used to make predictions. workforce requirements, employee turnover intentions, and the effect of the (recruitment) applicant experience on customer satisfaction are only a few examples.
What is HRM software?
Many HRM systems assist you in a variety of tasks and have numerous features; however, there are a few features that are critical to your job. The key is to figure out how to add these features and use them to their full potential to keep the company improving and increasing.
These few features are the most common in all systems out there:
Payroll

Payroll is probably the most important part of any HR software management. For it keeps records and data of all employee's wages and payroll.
The software also can help you calculate each employee's payroll and benefits. In some systems, you can even produce payslips for the employee to access to make it easier for them to review their pay.

Leave management

This also an important feature that can save a lot of effort and avid mix-up. Using this feature can allow employees to request leaves, approve them and handle the modified working hours, and such.

Employee Self Service aka ESS

This feature if used probably can save a lot of time and effort and some might say that it's invaluable to any HR system. It allows employees to modify and review their information.

Imagine you have more than 2000 employees and their schedule is not fixed with this toll it will be a piece of cake for each employee to access their information and timeline. Also, it can be used by employees to modify certain personal information and informing the manager of the changes.

Recruitment

A recruitment feature recently has been added to the systems to make it easier to post job ads for hiring. It can be integrated into the system and help HRs post the ads on many social and recruitment portals.

Furthermore, it can help sort the applicants, and even once the choice has been made, it can help to transfer the information to the employee file.

Performance reports
It could make a really big difference to have regular reports of how things are going. Employees' performance data has never been easier to collect using this feature. Especially if the HR department is required to give these regularly to the higher-ups. These reports could help tremendously while planning a strategy or some improvements in the company.
Which HRM tool should I choose for employees management?
Not all of the tools in HR systems are beneficial. Filtering will be needed to choose the best tool and factors that will result in the best tool to work with. In this list, we've collected the most important aspects that you need to look for in any tool:
Easy of use
Accessible from several channels
The chance to integrate third-party tools and apps
Easy to get reports
Can be customized to meet specific requirements
Why is HR software suitable for SMEs?
No matter how large your business is, you need to search for the best options available to boost your workflow performance. One of these choices is the HR management software. It has several advantages for SMEs.
Main Benefits of HR software
Improvements in productivity

Some tasks are tedious, and reception errors can occur, but having an automated choice to handle them would make a huge difference and save you a lot of time and effort.

Enhance the employee experience

Like we discussed allowing employees some room to managing and editing their information can build up trust in management and give a sense of sharing the responsibility.

Saving money

An HR software can release 2 - 3 HR employees to do the required tasks. Even if it'll not replace in the sense but it will save time for the HR department to focus on planning for more improvements.

Reducing Paperwork

At the moment, all organizations and heading to more environmentally friendly options to use. Converting to digital options is a must. The software can help in filling many forms that usually take a great amount of paper. In addition to sending digital reports to the government if needed to do taxes.

Improved Planning

As previously mentioned, reports detailing the success of both staff and the corporation are critical in the planning phase. Every plan relies on factors; thus, having the factors and data at the fingertips shifts the focus to the plan itself and how to execute it.
To summarise, HR management can be a simple task if you know what to look for and how to use it. In today's world, there are numerous digital alternatives for running various management departments, and each one provides you with an infinite number of options to choose from. But, in the end, it is up to you to do your utmost to strengthen and push your business to the next level of success.