10 Best Low-Investment, High-Profit Business Ideas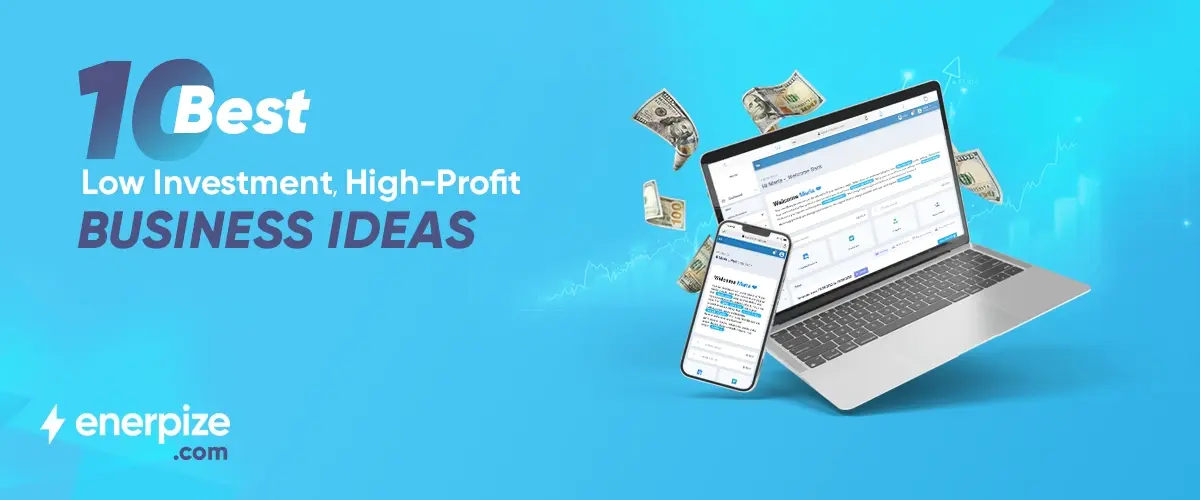 Starting your own startup or small to medium business means you're willing to take the initiative, be your own boss and you got right about the amount of leadership qualities you need to steer your pursuit from idea to establishment. Contrary to popular belief, starting a lucrative business nowadays doesn't necessarily require a big capital, owning an enterprise or having a large team involved. With a low capital, incorporating some entrepreneurial traits, being strategic and the right business idea, you can drive your business to success.
Coming up with the right business idea from the start is key to having a thriving business in the long run. However, it is a challenge for many making the decision of which industry to venture into and what business idea to pursue. The following ideas we've compiled are suited for starting a low-investment, profitable business that you can start from your home office, or online to cope with the current COVID limitations, part-time if you are a student, a housewife, and with just you as a solopreneur as a start.
Find out which business idea and industry suits your passion and scope of skill best, invest in some adequate, thorough research and kick-start your business trajectory.
1.Food Catering Services
If cooking is your passion, you can start a food catering business, the range of business is scalable and depends on how big you want it. You can start with small events at which point you will invest little and start profiting sufficiently, then moving to bigger events with the cumulative experience you have attained, getting better kitchen equipment and better-quality ingredients and hiring more employees to assist in big events.
Consider marketing yourself by setting up a simple website or an Instagram page, giving out a few free recipes and offering your services. In no time, you will start catering for orders and gaining word of mouth recommendations. You could take on being a chef as a side business or offer corporate meals-to-go services as well.
2.Virtual Fitness Studio Personal Trainer
The health and wellness business industry is on high demand, especially with the current uncertain pandemic times. If you have experience with any form of fitness, can offer nutrition advice and workout plans and recommend simple home equipment your clients can purchase to train with you, start monetizing your skills by being an online personal fitness trainer.
Set up classes on a video conference software and determine your rate per hour, you could take on one-on-one privates to whom you could offer personalized target plans or offer fixed classes to groups with various levels. With a small effort to build your brand on social media platforms, like starting your own page, providing some free workouts, tutorials and marketing your business with before and after photos of clients you've transformed, you can start building clientele in no time.
3.Marketing Services
If you know the ins and outs of marketing, you could start your own digital marketing services agency. Start online, define your niche, target audience and get familiar with the market needs and with inbound and outbound marketing methodologies. Invest in some courses to enrich your knowledge. You can start with freelancing to accumulate your pool of clients and start growing your brand by hiring a solid team of specialists to work with you on SEO, social media, creativity and design, content and email marketing and digital campaigns. Build a good portfolio, showcase your work and start targeting clients and businesses.
4.Bookkeeping Services
Lots of entrepreneurs and small business owners are good strategic thinkers who know how to run a business, but fall short when it comes to doing the maths and managing their business's cash flow, profit and loss margins and financial position. Outsourced accountants and bookkeepers are highly needed in the market. If you're proficient with numbers and have adequate accounting knowledge, you can start your bookkeeping services business. It does not require a certification though it is preferable and it is something you can see through later on.
As a bookkeeper, your tasks will involve keeping track of the business's invoicing, payments, journals, filing taxes, balance sheets and issuing their financial statements. A buisness can benefit from hiring a bookkeeper with updated knowledge. Invest in learning how to use a good online accounting software to set your records up for accuracy, save time, eliminate errors and more.
If you're on the lookout for a simple and efficient accounting software, Enerpize offers one; you'll find it intuitive, easy to navigate and learn.
5.Translation Services
If you've got a knack for languages, know a second language or more; this is a skill you can monetize by starting your own translation services agency where you can facilitate multilingual content and offer translation, localization and interpretation services. You don't need to be a certified translator in order to start this business. Start freelancing to build a decent portfolio and slowly advance your business by hiring translators who can translate in other languages or other niches such as medical and legal translation and grow your agency. Offer your services to authors, publications and organizations.
6.Audience Monetization
Building a following and keeping them engaged is a huge asset in today's world where visibility and connection play a strong part. Top brands and businesses of all sizes are on the run for individuals who are capable of curating content, engaging audiences and growing traffic. Through online platforms, whether it is social media audience monetization, such as Facebook and Instagram, podcasting, blogging or Youtube audience monetization, you can generate revenue and optimize a profitable business.
To demonstrate, take starting a Youtube channel for instance. Building a loyal audience and a huge following through curated content can make you a sought-after influencer, you will be able to market your products, services and offerings efficiently with a wider reach at hand. Moreover, brands will connect with you to sponsor your videos, be their brand ambassador, an affiliate, to recommend and market their own products and services, sending you free samples and giving you a percentage out of it and much more. Let alone the money you can make from Youtube views.
Social media influencers engage audiences through customized relatable content, vlogs, educational, entertaining content or a hybrid of both. And audiences remain loyal because of the content's consistency and the promised quality they're expected to find.
A little study of the market and audience needs will direct you to the type of content you need to create according to your target audience and the platform you will use to leverage this high-rewarding business venture.
7.Photography, Videography and Video Editing Services
Each of them singled out, or the three of them combined can make a lucrative business idea. The demand for visual and video content couldn't be higher, especially with the steady increase in audiences' consumption, engagement and response to them. If you know your angles, lighting and camera settings and are skilled with video editing software, starting your own photography and/or video production services is a guaranteed profitable business.
Sign up for some freelancing gigs and build your portfolio, rent equipment to save cost in the beginning and invest in purchasing your own equipment later on. You could even make profit by renting your own equipment as a side business to photography. You could specialize in many fields, hire niche photographers to expand your offerings or focus on a particular niche like fashion, food, abstract, landscape, stock, portrait, product or wedding photography. Having the photo editing knowledge is a preferable and an added advantage.
Utilize a photography studio management software to gain control of your workflow, easily manage your bookings schedule, projects, team and finances and keep track of every aspect of your business.
Build clientel through showcasing your projects and marketing your services on social media, WOM or through launching your own photography website where you could upload your projects and offer customized packages with pricing.
Video Production Services
85% of businesses use video content as a marketing tool, according to HubSpot. There is no question about the increase of demand for video content, it is proven to engage audiences, increase organic traffic, leads, sales, build brand awareness and loyalty. The niches are unlimited, be it brand video content, website, product, tutorials, Youtube videos, vlogs, educational, entertaining videos and live streaming.
Produce a video from start to finish as a videographer and video editor or specialize in video editing using video editing software. Curate a showreel you can propose to clients and businesses. As you move forward, hire niche videographers and editors to expand your offerings and grow your business.
8. Online Tutoring
Is there a subject that you're an expert in? You can teach that. Whatever the subject is, be it a language, a standardized test preparation, a skill like photography, music, productivity, a hobby like drawing, cooking, even coding or business marketing, there is definitely someone out there waiting for the knowledge you have to offer.
Attaining teaching skills like how to deliver information and qualities like being descriptive, creative and patient can be of great help to starting this business. Find a niche field you have expertise in and start your tutoring business. Invest in some research about developing content, teaching material sequence and learning plans for that subject. Come up with measuring meters for students' levels to get an idea of where to start. Teach privately and slowly develop your way into curating complete courses that you can sell. Offer your services on your own website or through tutoring and educational platforms and network using social media and word of mouth.
9.Freelance Writing
This is a business you can step into if you are passionate about the written word, the power of content, the intricacies of proofreading and editing and if you hone the craft of writing. Businesses need their online presence and with good written content they can attract and sustain prospects, audiences and leads. The fields are various, including Email content writing, blog writing, copywriting, technical writing, social media content writing, marketing copywriting and more. Start building your portfolio of work by offering your writing services for free at first. A good idea is to write sample content for made up projects to showcase your range of skills. Work your way up to landing freelance clients and focus on your field of specialty.
It is viable and advantageous to invest in acquiring knowledge that supports your path as a quality writer such as SEO and marketing knowledge. The marketing skills will put you ahead as a skilled writer and complete the package, after all, you want to engage an audience through writing. An advancement to this path you could consider is becoming a content creator. Hire copywriters, creatives and designers to grow your team and start your own copywriting services agency.
10.Consulting Services
If you've been growing expertise in a certain field, you could become a consultant where you can provide insight and guidance. The fields of specializations are open and surprisingly versatile. It could range from being a marketing, sales, SEO, business or data administration consultant to being an online dating consultant, a career consultant or an Instagram consultant. Advance to starting a consulting services agency, hiring consultants and growing your client relations.