How to Start a Successful Podcast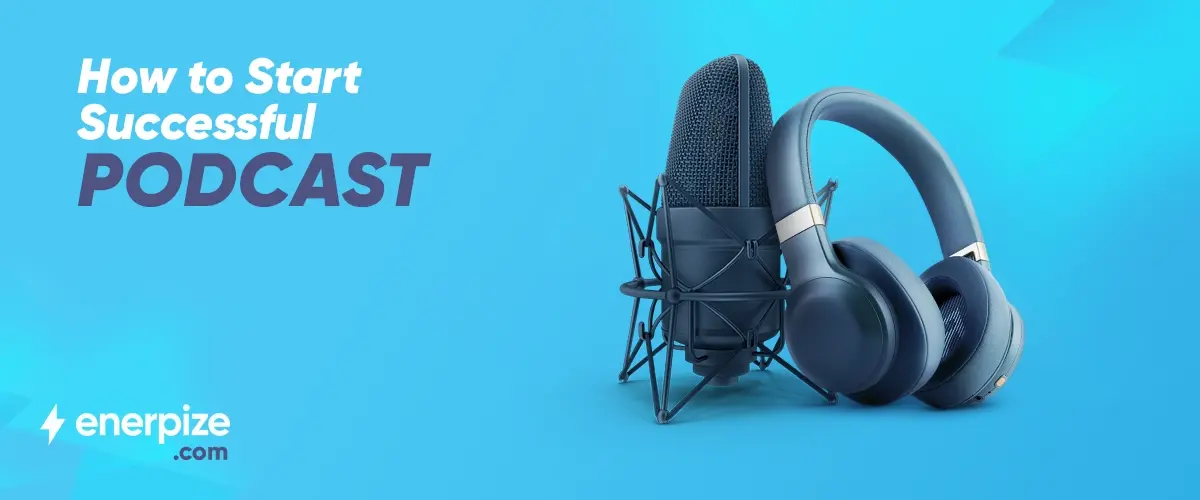 Whether you're creating content for your brand, want to build a community, promote your services or drive traffic back to your website, your business in whatever size can greatly benefit from launching a podcast. You are probably here because you are passionate about a topic or field that you want to talk about and share with audiences, possibly monetize it, and podcasting is a medium that has never been more on-demand.
With productivity on the rise, people are listening to podcasts more than ever; they are convenient, accessible and value-packed. A lot of people now prefer audio content to other long-formatted content as they're able to listen to what they're interested in and reap the benefits while juggling tasks of their own, anytime, anywhere. According to 2020's Global Podcast Statistics, 75% of the US population is familiar with the term "podcasting" and 50% of all US homes are podcast fans.
This post aims to provide you with guidelines you can follow to build a successful podcast.
1. Know your Purpose
Before you start a podcast, it's important to get clear on the reasons why you wish to do it. This will define all the next steps from identifying your podcast identity to catering to your audience's needs. When you remind yourself with your 'why', it sets the bar of not only your motivation and performance but also your consistency. Ask yourself the following questions:
Why am I starting this podcast?
What is the purpose behind this podcast?
What value will I add by sharing my content?
Consider your goals behind the podcast, what you would like to achieve and have a future vision for what this podcast could become. For example, the podcast could be part of your marketing plan, you could want to monetize it, or you have a topic of interest you would like to inform audiences on and are open to its outcome.
2. Define your Niche
Narrowing your content down to a specific niche is crucial to start a podcast. Ultimately, pick a well-defined specialty that you are passionate about, well-informed of, and also willing to research and create content for for the long-run. The more specific, the more audiences relate to you directly as they are looking for the exact content you are providing.
Your niche doesn't have to be unique, chances are there will probably be other podcasters with the same niche and same passion. What will truly differentiate your podcast is the content you will invest in and the way you will put it out there. Audiences would want to listen to you because of the connection they will build and their expectations that your podcast meet.
3. Define your Target Audience
Your audience will be the core of your podcast. They will listen, leave reviews, share your work and guide you when you need to find content. Focusing on their needs while also being flexible with following their comments and considering their feedback will keep them engaged, and keep you updated with the medium's demands, as long as it is within-niche.
Who is the content for? Who will the content benefit?
What kind of audience do I want to attract and sustain?
What are my listeners' interests based on the content I will provide?
What problems/ questions will I offer solutions to based on the needs of my audience?
Planning out the little details is the image you put out, every word you put out there gives your audience an impression of what the podcast and the personality behind it is, use this to your advantage to attract listeners and set their expectations from the get-go.
Brainstorm ideas for the name of your podcast. Think of a name related to your niche and the content you will provide. The podcast name should give the audience an idea of what it is about, think clever, catchy, but also direct and descriptive if that is the norm in your field of choice. A catchy name with a descriptive hook works well as well. The name should align with the podcast's identity and allow space for expansion in topics within the niche.
To take things up a notch, get more creative and think of a tagline to accompany your 'brand''s name. A tagline will be memorable and you can have it voiced-over in the intro of each episode to sound more professional.
Are you planning on hosting solo? With a co-host? Interview style? Decide on a format you would like the podcast to follow. You could incorporate a mixture of different formats depending on the episode, your offering and target audience.
Determine the appropriate length of your podcast according to what you need to deliver. There is no rule to how long or short to go as long as you're keeping it interesting. Keep in mind that as you build audiences, your listeners will grow to expect almost the same episode length and they will even adjust their schedule to it. So it is better to remain consistent to an interval unless a certain episode topic or format dictates otherwise.
4. Equipment
Having a laptop with internet connection, a good quality USB microphone and an audio recording and editing software is enough for you to sound decent. Many podcasters started recording with just an iPhone. You can later invest in more professional recording equipment. Learn some basic sound editing techniques and you're good to go. There are various good audio softwares like Audacity for editing, which is free, available for pc and mac users and easy to use, and Garageband if you're a mac user.
Here's a podcast equipment guide within budget that is definitely worth the read:
The Essential Podcast Equipment for any Budget
When you're just starting out, getting the technicality out of your way as much as possible is more convenient. Nonetheless, as the scope of your podcast gets bigger and also depending on its format, you will find yourself needing to upgrade your equipment. Don't expect it to cost a fortune, it is a valuable investment in your production and consequently, the pod's success.
5. Scripting your Podcast
Should you script or improvise?
At first, script your episode. The advantages are you have your talking points ready in detail, you're less-likely to go off-track or stammer and you will feel confident, though you will have to practice sounding conversational.
However, as you move forward, balance between scripting and improvising. Finally, aim to transition into preparing just an outline of the talking points you want to address. It's important to keep it flowing and natural, an audience wouldn't want to listen to someone reading off a script, word-for-word. They aim to build an intimate connection with your personality, so leave room for some spontaneity. At first, it will feel intimidating but as you practice more, it gets easier.
It goes without saying, but again, invest in the quality of your content. Educate yourself in the podcast scene, on your niche and focus on the needs of your target audience. Lee Odden has said it, "Content isn't king. It is the kingdom". This is the content that will engage audience, build loyalty, and set you up for success. Less is more here, take your time, post quality content, even if it means posting a good one a month.
6. Polish
Incorporating all the following elements into each episode will not only add attraction and professionalism, it will act as your identity for the long haul. Perfecting those little details will ensure you're working your success from all angles.
Your audience are here for audio, but they are also visual and will click on the first thing they find visually appealing. Create artwork that speaks to you and you find related to the episode topic. You can use platforms like Canva, which is easy and free, or hire a freelancer to create more professional, personalized cover art.
Your "meta-description" gives your listeners heads up about your episode. Importantly, it optimizes your ranking in search engines making you more reachable.
Include an intro with your podcast's name, tagline and an outro with a piece of music to cue you in and out. This isn't necessary and you can start without it, but it is simple, professional, you will only do it or get it voiced-over once and edit it in the beginning and end of each episode.
7. Go 'Trial and Error'
Be willing to go through this phase. Record several times before you settle on one output to launch, change up your sequence, or publish and improve as you go. Prepare yourself for just a few listeners at first and a few bumps on the road; be it in learning to embody a radio presenter persona, editing audio or finding engaging content. Keep at it and look at it as the sum of your experiences adding with each podcast.
8. Publish and Distribute
Decide on the podcast directories you want to publish in. There are many channels to choose from and you could publish in more than one. These include Spotify, Apple Podcasts, Youtube, Stitcher and many more. This will depend on where you want to gain listeners and what mediums your target audience are mostly on.
Distribute and share your podcast on your social media platforms, your website, you can grow into a newsletter and gain a few first listeners from there.
Include a call-to-action and ask people to subscribe and review your episodes.
9. Be consistent
Consistency is the key to success. Audiences appreciate consistency; not only does it build connection and loyalty, but also increases your credibility and accountability.
The best way to do it is to create a realistic content calendar with a publishing schedule that you can follow and stick to. Prepare your content ahead of time and remain consistent with your publishing frequency.
10. Seek Inspiration
Browse through other podcasts that you enjoy and that are relevant to your niche, think of what it is about them that you enjoy the most, what factors keep you engaged, look at their names, their format, how frequent they post and the quality of their content. Get inspired, build yourself your own database and guidelines to follow from podcasts you look up to.