Recruitment Strategies: The Comprehensive Guide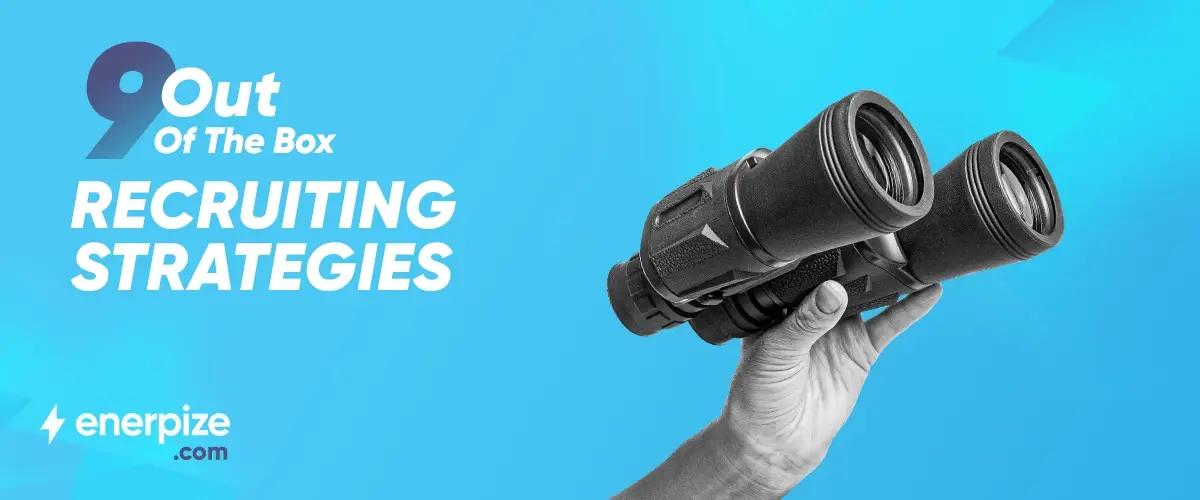 The modern employment market is continually evolving, and the demand for varied skills and talents has highlighted the importance of recruiters for all companies, regardless of size. They will require an individual or a team to search for suitable qualifications and skills that match their company's expectations.
Recruitment is a critical role of the human resources (HR) department.There are various steps to the recruitment process. As a result, the HR department must go through numerous stages of recruitment to employ outstanding staff members. Understanding the complicated world of recruiters and their techniques is essential for navigating the ever-changing environment of talent acquisition, whether you are an HR professional, a job seeker, or a business leader.
This investigation into the world of recruiters and recruitment tactics will shed light on the fundamental ideas, problems, and creative approaches that define this critical job in today's workforce.
What is the recruitment process?
Recruitment is the process of finding and attracting qualified applicants to fill a vacant job in a company or organization. It identifies applicants with the skills and attitudes needed to help a company achieve its objectives.
Recruitment is one of the HR department's many job responsibilities, and it is the process that encompasses everything from identifying a job vacancy, analyzing job requirements, reviewing applications, screening, and shortlisting, to interviewing, selecting, hiring, and onboarding employees.
Many businesses rely exclusively on marketing, job boards, and social media platforms to fill open positions, while others prefer to outsource their recruiting requirements. Nowadays, many companies employ recruiting software to improve the effectiveness and efficiency of their hiring processes.
Different Stages of the Recruitment Process
The recruitment process requires a few stages to be successfully held. It consists of multiple stages, each with a particular function in acquiring talent. The complexity and duration of these stages might vary based on the company, industry, and particular positions being filled. However, they generally include the following key phases:
Identify the Vacancy
Before you can meet a certain need, you must first determine what that need is. So, to be fully aware of the abilities, talents, or qualifications required for this role, you must be aware of your organization's gaps and obtain the requirements from the relevant team.
These requirements may develop as a result of a variety of circumstances such as business growth, employee turnover, or the introduction of new roles. At this point, it is critical to define the role's needs and duties.
Prepare a Job Description
Once you have gathered the required knowledge, skills and experience, you'll need to start identifying the job duties and responsibilities.
A well-written job description should be clear enough to attract suitable candidates, enlighten them about the organization and define the position they are applying for, and outline expectations for the employee's first year.
To guarantee that the job description and specification satisfy the company's objectives, you create them using a combination of management input and analysis. Determine if the position is permanent or temporary, full- or part-time, and what the training, salary, and performance assessment process will look like.
Search
The search stage in the recruitment process is critical as recruiters or hiring specialists actively seek out potential candidates that suit the company's requirements and qualifications for a specific job opening.
Many businesses prefer internal recruiting, in which they start by looking for current or former workers and asking them for a job transfer or promotion. Employee suggestions and past applicants are also considered in this process. Others would choose the external recruiting method, which encompasses all channels or means of attracting individuals from outside the company's present workforce.
Screening
Screening is a time-consuming stage in which recruiters begin to narrow down the large number of candidates they have received during the search stage. Typically, it begins with reviewing applicants' resumes and cover letters.
Some businesses use applicant tracking system (ATS) software to review applications and identify those who meet specific requirements and keywords. Others need candidates to take some skills tests to assess their traits and determine if they are a good match for their work environment.
Interviewing
Candidates who have passed the screening step are transferred to the interviewing stage, which is the most important hiring stage. Interview questions vary from assessing how applicants respond to stress to evaluate their talents and qualifications for the job, as well as certain interpersonal skills and how the candidate perceives himself as a team member.
Some positions demand an applicant to do a task, which is generally for individuals applying for jobs that involve creativity, such as graphic design, content writing, and software implementation.
Hiring the Suitable Applicant
This is regarded as the first step in the last stage of the hiring process. After interviewing and testing applicants, it's time to narrow down the field and select the most suitable candidate to join the team.
After the interviews and tests, the team should have an idea of who the perfect applicant is at this point. After reviewing all the insights and facts, the final decision is made. After making a final decision, the employer should invite the candidate and make a formal job offer.
Onboarding
This is a critical step that necessitates a well-planned onboarding approach. The importance of the onboarding stage is in making the new employee feel ready to start working right away by making him fully aware of the company's culture and all of his duties to the company and the team.
Different Types of Recruiting Strategies
Recruiting strategies are the main ways and methods that businesses use to attract, identify, and hire the best candidates for their available positions. A recruitment strategy depends on the organization's needs, the industry, and the roles to be filled. So, Here are some different types of recruiting strategies:
External Recruiting
External recruitment is a talent acquisition strategy in which businesses strive to fill job openings by attracting and hiring people from outside the organization. This strategy entails going outside the present workforce to find and hire new people with the relevant skills, qualifications, and experience for specific roles.
Direct Ads
Direct advertising is one of the most popular strategies, it is the process of posting job ads on different channels such as:
Social media: social media is always an effective choice for a business, whether it's for marketing or job posting. Companies may use social media to recruit applicants on the sites where they spend the most time.
Job Boards: Job boards are a more formal method for job positions and locating potential applicants, and they can be among the most effective channels because almost all visitors of this type of website are looking for jobs. Indeed, LinkedIn and Glassdoor are a few examples of job boards.
Career Sites: A Career Site is a page on your company's website where clients and job seekers may learn about the culture, benefits, and objectives of your organization.
Recruitment Agencies
A recruiting agency is an outsourcing strategy that some companies rely on although it requires high fees as it is an effective method that saves the company time and effort of the whole recruitment process by finding the ideal applicant for a certain opening in a company.
Internships
An internship is a great opportunity for a company to meet potential employees and may be considered as a working interview. It also helps the organization in finding the best match for its surrounding environment.
Job Fairs
Job fairs provide an excellent chance for job seekers to interact with businesses and learn about the culture and industries that interest them. Attending job fairs may show interested individuals the sorts of employment available and whether there are any internships available as well as helping to decide what job is suitable for your education and skills.
Talent Pool
A talent pool, also known as a talent database, is a strategic resource that businesses utilize to source, engage, and retain a pool of potential applicants for current and future job vacancies. Individuals in this pool have indicated an interest in working with the organization or have been identified as good prospective candidates.
Internal Recruiting
Internal Recruiting is the process by which the (HR) department begins to explore its present workforce for individuals who can be transferred or promoted to fill specific openings or asks employees to recommend applicants and search for suitable former employees and candidates.
Promotions and Transfers
Promoting and transferring employees are considered as two processes of changing an employee's position in the same company, but they're slightly different from each other. Promotion is a step forward since it moves an employee from one job to another with an increase in compensation and responsibility. The transfer is a horizontal step where an employee is transferred to another position with no financial or responsibility increase.
Boomerang Employees
Boomerang employees are people who were formerly employed by a company, left for various reasons, and then returned to work for the same company. The term "boomerang" is used because these employees return to the company, much like a boomerang does. Boomerang employees are becoming more popular in today's job market, providing distinct benefits to both the individual and the business.
Employee Recommendations
Employee recommendation is a combination of internal and external recruiting. Existing employees are encouraged to recommend people they know for open positions.
Difference between Traditional and Creative Recruiting Strategies
Traditional and creative recruitment are both talent acquisition strategies, with their own set of methods and practices. Traditional recruitment strategies focus on conventional methods, whereas creative recruiting strategies use more imaginative and proactive ways to attract and engage a broader range of people.
The choice between these strategies often depends on the organization's specific needs, culture, and willingness to embrace new approaches to talent acquisition. Many organizations today use a combination of both traditional and creative strategies to find the best talent for their roles.
Traditional Recruiting Strategies
Traditional recruitment is a strategy that all companies have used in the past, and it is distinguished by its familiarity and simplicity, as paper-based job advertising, internal recruiting, referrals, and word-of-mouth are what make them popular among today's hiring experts. However, today, traditional hiring and recruitment techniques are insufficient to attract the best candidates. Although these strategies are successful, they can be time-consuming, expensive, lack diversity, and may not reach the targeted applicants.
Newspapers Ads: Newspapers are regarded as the most traditional strategy among the oldest means of communicating job openings to job seekers.
Internal Hiring: It is the most convenient way to find a suitable candidate for the job. A company's team is already familiar with its working environment, the potential of existing team members, and the company's history, and performance.
Local Employment Offices: A local employment office, also known as a job center, workforce center, or employment agency, is a government or community-based institution that offers a variety of employment and job search services and tools.
Creative Recruitment Strategies
Creative recruiting methods seek to distinguish the hiring process and make it more appealing to both candidates and companies. They can be particularly effective in industries and job markets where competition for top talent is intense. These tactics, when executed intelligently, may result in successful recruits and a more inventive team.
The particulars of creative recruitment differ according to the audience and target job market of a post. For example, a company looking for a copywriter may use different approaches to locate competent applicants than one looking for a sales manager. Tailoring recruiting strategies to the demographic of a role allows you to connect with interested people and focus on the specific sort of applicant that matches the job's duties.
Different Recruitment Options: Experimenting with different recruiting strategies can help a company define its target audience and where to locate them. It will also assist in determining the best recruitment approach for each job. Comparing email marketing, social media, direct recruiting, and online recruitment will help you determine which resonates with your job's target persona.
Recruitment Marketing: Treating recruitment as a marketing activity is a valuable way to help your business stand out from competitors and attract high-value clients to roles. In a world of social media users, many companies start to post videos about their day at the office and how friendly and fun their team is, and this is an effective way that enable candidates to assess whether they will fit in this work environment.
Find your Target Audience: Thinking about your audience, where and how to find them will help you choose a suitable recruiting method because each job has different sorts of employees. For example, if you're looking to hire a graphic designer, you'll employ a different recruitment strategy than hiring a CEO.
Employee referral programs or bonuses: Increase your chances of attracting candidates by providing referral bonuses to current employees. This will motivate your staff to begin looking for qualified people to join your team as well.
Importance of Creative Recruiting
Creative recruiting is important for several reasons, as it offers companies various advantages in a competitive job market. Here are some key reasons why creative recruiting is essential:
Attracting Top Talent: Attracting the best applicants in a competitive employment market can be difficult. Creative recruitment strategies distinguish companies from their competitors, making them more desirable to top applicants seeking creative and interesting possibilities.
Diversity & Inclusion: Creative recruiting strategies are mainly developed to attract applicants from different backgrounds and demographics. This helps to create a more inclusive workforce by bringing together people with diverse viewpoints, skills, and experiences.
Improved Employer Branding: Engaging social media campaigns, interactive job previews, and employee-generated material are important to improve a company's employer brand. Even before job opportunities are publicized, a great employer brand may attract talent.
Cost-Efficiency: Companies can reduce recruitment expenses and the time it takes to fill job openings by proactively engaging potential applicants and utilizing creative approaches to find talent.
Keeping up with Trends: Creative recruitment strategies frequently adapt to new trends and technological breakthroughs, such as remote work and digital platforms. This adaptability is critical for remaining relevant in a changing employment environment.
9 Out of the box Recruiting Strategies
Out-of-the-box recruiting methods are unconventional and innovative approaches to find the best candidates for a job opening that go beyond typical methods. These methods are intended to attract and engage applicants in memorable and distinctive ways.
Furthermore, unconventional recruiting may assist you in developing more meaningful interactions with applicants, which can lead to improved retention and employee engagement.
Fancy Job Titles
Creating unique job titles may be appealing to certain individuals because many people nowadays have varied skills and talents but do not have a precise title for what they can perform, so they may be drawn to a fancy one.
Employee-Generated Content
Encourage staff members to generate materials, such as blogs, videos, or social media postings, to share their experiences at the company as well as their thoughts on the work culture.
Virtual Reality (VR) Office Tour
Provide virtual reality office tours, allowing potential employees to experience the workplace and gain a feel of the business atmosphere before ever applying for a position.
Billboard Job Ads
Display job openings on billboards or other outdoor advertising in high-traffic regions. This unique strategy can generate buzz and grab the attention of potential applicants.
Host Competitions
A competition may be an excellent approach to examine a candidate's abilities and assist the hosting company in determining who is the best among other candidates. It can help companies locate highly competent personnel who thrive under pressure, whether in person or online.
Referral Bonus Program
Increase the chances of attracting candidates by providing referral bonuses to current employees. This will motivate your staff to start looking for qualified people to join your team as well.
Offer Flexible Options
Consider providing your employees with flexible options such as part-time and remote work or flexible working hours, as job seekers nowadays are constantly searching for flexibility in their work.
Video Job Descriptions
Create captivating video job descriptions that give insights into the corporate culture, team, and position instead of written job advertisements. This method can make job postings more appealing and informative.
Innovative Social Media Campaigns
Make imaginative use of social media to highlight the company's culture, values, and career prospects. You may organize live Q&A sessions with staff, run contests, and share behind-the-scenes content.
When do enterprises need creative recruiting strategies?
Enterprises frequently require unique methods for recruiting when dealing with talent shortages, operating in highly competitive job markets, hiring for new or specialty jobs, promoting diversity and inclusion, or operating in innovative sectors.
These strategies are critical for attracting top personnel, distinguishing the business from competitors, and engaging people who may not react to standard recruiting methods.
Additionally, while rebranding and stressing business culture, innovative recruitment is beneficial. Using innovative tactics helps businesses to better match their recruiting efforts with their unique goals, culture, and requirements, resulting in more successful and effective talent acquisition.
Final thoughts
recruitment strategies play a pivotal role in shaping an organization's success. Recruiting strategies are not one-size-fits-all; the process includes multiple stages and strategies, but they should be adjusted to each company's specific needs and goals; also, the strategy or type used should be determined by the vacancy, since not all positions follow the same recruiting process.
Whether the methods utilized are traditional or unique, they both work, and many companies use both in conjunction to hire the best candidates for their job openings. However, there are key differences that make innovative strategies more effective since they save time and money. By understanding the recruiting key elements discussed in this article and adapting recruitment approaches to specific contexts, organizations can position themselves to not only identify the right candidates but also to thrive in an ever-evolving employment landscape, ensuring they secure the best-fit talent for their long-term growth and prosperity.
Write Your conent here