5 catchy things about Chatbot you should know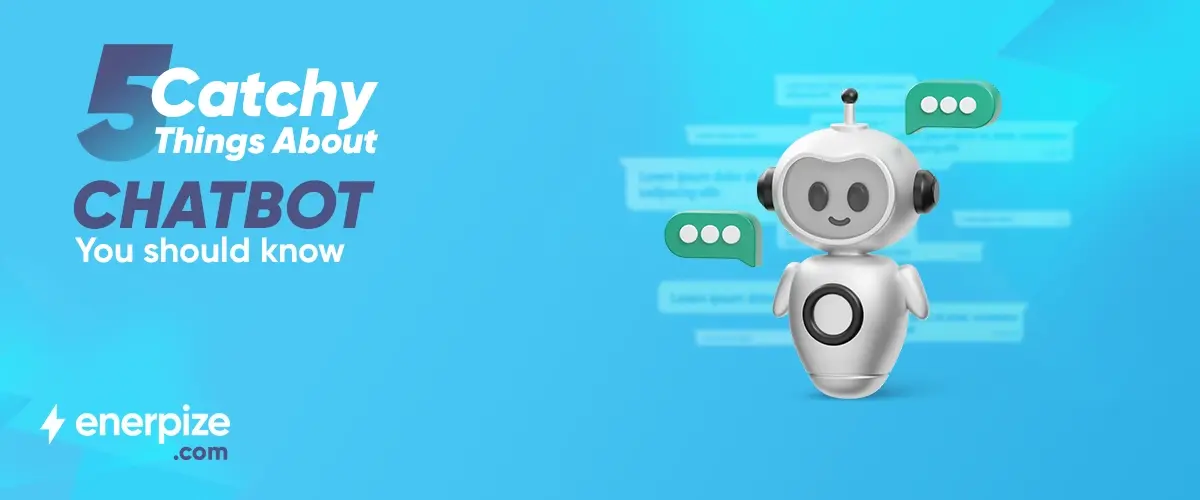 At the moment the new hot topic of the year is chatbots. As the world at the moment is moving very fast and transforming rapidly from the traditional ways to newer ones that make things faster, better, cheaper, and more flexible. And It's all-natural of course as the human mind never stops thinking and inventing. So you as an individual who owns a business however small or big, you have to keep up my friend or you'll be left in the dust.
Of course, you'll think that chatbots are not that revolutionary or don't help that much. But here when I tell you that you're wrong and I'm going to tell you why exactly. So let's start at the beginning, Shall We?
What is a chatbot?
A chatbot is simply a computer program used in on-line chat conversations via text or text to speech and that replaces the human element in the conversation.
"At the most basic level, a chatbot is a computer program that simulates and processes human conversation (either written or spoken), allowing humans to interact with digital devices as if they were communicating with a real person. Chatbots can be as simple as rudimentary programs that answer a simple query with a single-line response, or as sophisticated as digital assistants that learn and evolve to deliver increasing levels of personalization as they gather and process information." (What is a Chatbot? 2020).
You may have encountered them before without even noticing. You may also have interacted with it while browsing certain websites for big companies, it will appear as a pop-up page and ask you if you need help. It's a really helpful tool if you think about it and it's not that hard to build and will add much value to your business if you invest in it.
Why it should be an essential part of your website ?
As a business owner, you need to always think about how to deliver the best help and service to your clients but with as little effort as possible, that's like 101 for business management. So you'll always find newer ways to do things and many companies competing to make it to the top with the latest technology or apps to offer and differently you don't make it late to the big show.
Don't worry I have the as here just for you however what service you offer so let's get to business. Chatbots are a must-have in websites or apps but certainly, you'll ask why and I'll tell you that you should not ever waste an opportunity to save time and effort for you and your clients.
They help you answer simple questions from clients that could save a lot of time and make it much easier for your customer service team. Also, it could reduce your need for hiring more agents to help you answer the queries of customers.
For example, if you're an auto shop repair and you have a website for your clients either to order accessories or spare parts for cars if you have a chatbot built in your website you can program it to ask the client to choose the model of their cars (say Nissan Sunny), the year it has been made (2009), and which part that needs repair or you want to purchase ( a 15/185 tire). You might need only an agent to verify with the client and take the payment information or even make the bot do that too.
See so simple without any compactions in the process yet it will save so much effort and time.
When to use a chatbot?
Ok, so now as you understand the need for chatbots you'll be wondering if it's suitable for your business and when to invest in developing one. The answer is so simple any service you might offer to your clients will need you to at least get feedback from your clients or rate your service to improve and to get more profits.
Moreover, if you have your website to sell your products or services then you'll need them to help you with the queries and concerns from your clients and it even completes the purchase process for you.
The good thing about chatbot is that it's not just a regular reboot without personalized touch but as long as you invest in developing it, it will feel like you're almost interacting with a human who understands your needs and delivers it to you on the spot.
They will also help you free some time for your customer service agents to handle more complicated cases and handle the repetitive questions that can be tiring after some time.
If you want to dig deeper into the technicalities of chatbots and is it bad or not you can take a quick look at this article by Oracle What Is a Chatbot?
How to choose the right type of chatbot for you?
Well, you certainly now want to know how to start to make your chatbot for your business and to choose the perfect one that suits your clients' needs. There are many different types of chatbots that you can choose from and that's the good thing about it that there are no set rules for them.
You can customize it for your needs and requirements as you see helpful. There are of course basic types that you can choose from if you are still not certain of the most helpful features for your website or your type of business.
For example, the support chatbot and that's I believe the most common. As you can imagine any type of business will need a support team to help you handle the customer questions and you don't want to waste your time investing to hire a big team to handle that. Problem solved you just have to program your chatbot to the FAQ that you get and answers with one clear liner and voila. There's also another type of chatbot which is the assistance chatbots and usually, it's more developed than the ordinary chatbots. Like for example, Siri by Apple or Alexa by Amazon, these are all considered chatbots that help clients with their needs and simulate human conversation.
Also, these chatbots mainly use AI to process the answers of the clients and use it later to develop functions more. There is also another type of chatbots, a skill chatbot which usually depends on single voice commands like Switch on the lights.
You can find more on the diffrent types of chatbot at this articale 3 types of business chatbots you can build
Which Mediums are available that you can choose from? ( web-based, messenger WhatsApp, Telegram, Or Instagram)
Now you may be convinced to make a chatbot for your business but you don't know how to begin. But no worries I'm here with the solution. So different platforms help you with building your chatbot. For example, Messenger or Facebook in general offers you the option to set up one on your website and be directed to your Facebook messages to set a based menu that helps your clients.
Like I explained in the beginning if you have a business and you sell products on your website you can set up the chatbot using Messenger with certain items that you program it to ask your clients to serve their needs. Whether that entails prices for products, asking for a certain model, or even booking for a class.
Also, if you don't want to use the usual social media platforms you can make a web-based chatbot to help you while answering customers' queries. At the moment Facebook is working to merge the messages system between Messenger and Instagram so you may find it either to set up a chatbot using messenger and your clients can be directed to your Instagram page that may lead to an increase in your profits as if you invest in it well, it will attract more clients your way.