What is CRM? The Complete Guide to Customer Relations Management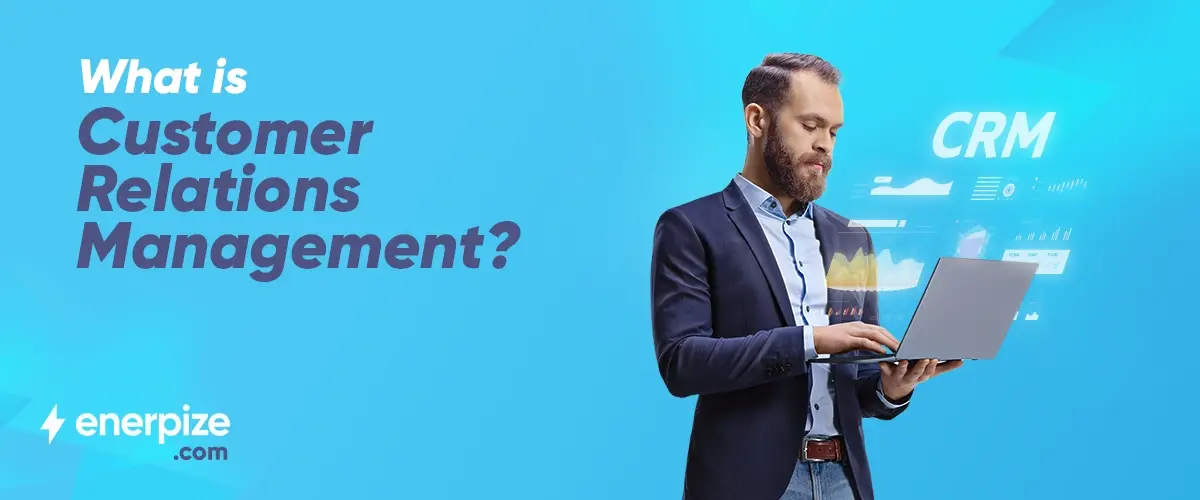 Managing customers is the backbone of businesses of all sizes and types. After all, businesses seek to sustain long-lasting relationships with customers and achieve business goals; grow customer base, close deals, improve relations, sales and in turn business' status.
Subsequently, in your business, prioritizing customers by keeping record of your contacts and making sure you monitor and streamline your customer's journey; attracting prospects, engaging audience, nurturing leads into opportunities to retain and acquire new customers is only coherent in order to achieve your business' goals.
In the past, businesses used to rely on manual methods of storing and communicating with contacts. Not only was it time-consuming and inefficient, especially as businesses' clientele grew, but also was a cause for inconsistency between teams as customers' information was stored in more than one place; between a call there, an email here and even a sticky note elsewhere, sales and marketing teams, as well as customers, have found this to be a hectic process.
Ultimately, if you're a business owner, you want your data stored in a single place where consistency, record keeping and accessibility by multiple teams are provided. Having a CRM platform deployed can help you do that and much more. It is a much more powerful system than having a "digital Rolodex" as it's commonly misconceived; with different types, capabilities and functionalities, CRMs can fulfill vast business needs.
In this article, you will get informed on why you should ditch spreadsheets, what having a CRM system can offer your business and how it can help you maintain customer relations, smooth your workflow and realize your ROI.
We'll be covering CRM completely, from what it is, why your business needs one to how you can choose the best CRM software and offering our free, cloud-based CRM tool from our business management solution "Enerpize" to manage your customers and small business.
What is CRM? What does CRM stand for?
Defining CRM
"CRM" is an acronym that stands for "Customer Relationship Management". It is the process of managing, tracking and aggregating interaction data with past, current and potential customers. Its purpose is to streamline businesses' workflow by optimizing customer relations and improving customer services, retention and acquisition.
The term "CRM" is often used to refer to a CRM software or a system that helps businesses do so. Basically, a CRM software works by gathering detailed customer information from various channels in one unified place and can even take on the complexity of analyzing customers' behavior spanning the entire sales funnel journey across business channels to help businesses monitor and understand their target audiences, improve business relations with customers and ultimately grow their sales and profitability.
What does a CRM system do?
A CRM system lets you have a complete overview of the lifecycle of your prospects and clients. Whether you have an on-premise or cloud-based system, you can save, organize, track all your customers' information and interactions with your business in one unified CRM database and personalize communication with customers.
A CRM collects and records information about customers from various sources; inputs from interactions with your business' website, social media, emails, calls and other platforms to help you track down and manage current customers' and prospects' engagements. In addition, salespeople and marketers can use CRM to identify qualified leads and opportunities in order to acquire new customers and customer support can offer better customer service.
At the most basic level, CRM systems provide contact management to create and store records of current and prospective customers. CRM systems also tackle the functionality of processes' automation to save your teams unnecessary and time-consuming follow-ups and activities with clients.
There are many features and types of CRM platforms that you can deploy according to your business needs. Below is a list of the CRM features you should look for in a CRM software.
Features of CRM
Contact management and tracking
Contact management is the core functionality of a CRM system. It helps you consolidate customer information and store contact information like name, email, address, preferences and history of customer interactions and transactions in one unified database. With social media integrations, it can even track down customers' interaction with your pages, helping sales and marketing forces track down potential leads.
A CRM system saves your time, your teams' efforts and streamlines your workflow by keeping track of all customer records and information in one place. It lets you store, categorize and segment customers according to interaction and different teams' communication needs. Enabling cross-team collaboration, any team member can pick up where the other left without having to go through mundane follow-ups with each other or team members of different departments.
Sales pipeline and timeline management
A CRM system lets you view and record all your past, current and potential customers' interactions in every stage down the entire sales funnel. This helps align efforts between sales and marketing teams handling prospective customers and scoring qualified leads. It also makes it easier for sales teams to track down customer activities, prioritize certain calls and keep a lookout for every sale opportunity they know they can close.
A CRM provides sales and marketing automation tools and sales pipeline automated nudging and reporting based on set and customized triggers. It helps automate processes like storing and tracking texts and emails, sending follow-up emails and reminders to customers, tracking and recording calls and other administrative and manual tasks so teams can be more productive.
CRM does more than store data. It can incorporate the functionality of optimizing performance by providing real-time reporting and analytics on customer interactions and sales progress based on mining stored data, analyzing customer engagement and delivering speculations like trends in behavior.
Types of CRM
CRM is divided into three main categories:
Operational
Analytical
Collaborative
Operational CRMs streamline processes by automating daily operations and activities such as aggregating and storing customers' data and providing sales, marketing and customer support automation.
Analytical CRMs focus typically on providing analytical tools that enable you to monitor customers' behavior, identify patterns and trends and get actionable insights on your business status and next moves. All in all, this makes for a seamless customer experience. With analytical intelligence, you can better understand your current customers, target audience, nurture leads and cater for their needs.
Collaborative CRMs work by managing and coordinating processes sharing customer information between various teams to break down silo. Most businesses lack integration when it comes to information going back and forth between team members and other departments. In this case, customer support, sales and marketing teams need to integrate and unify information in one central place.
Collaborative CRMs ensure members of all teams and departments have access to the same information so that one can pick up where the other left off.
Who uses CRM
If you have customers, chances are, you need CRM. The type and scope of the CRM vary and depend on your business structure and needs. The common misconception is that only large enterprises or sales and marketing departments use CRM, but in fact businesses of all sizes can benefit from implementing a CRM system.
If you're a freelancer, you probably have a relatively small clientele base that you do well handling with spreadsheets. However, the high chances are that you send invoices to customers and having a CRM that automates activities with your clients such as keeping all your data and client history in one place, sending follow-up emails or payment reminders to clients and personalizing communication can guarantee building long-term, professional relations with them. Choosing a simple CRM with built-in invoicing features will solidify your freelancing business, help you be more productive and efficient.
B2B companies can benefit best from sales and marketing automation in CRM platforms by keeping tabs on prospects and customers across the entire sales funnel and monitoring each of its stages. Lead scoring and increasing sales are a few of B2B CRM deployment benefits. A CRM system allows B2B to gain insights through mining data and helps decision-makers reach actionable outcomes with analytics and reporting.
B2C companies have a pool of customers spanning across multiple departments with information from various resources that needs to be integrated and prioritized. Though the life cycle is shorter, leads qualification and opportunities are numerous and B2C CRMs work on handling these large numbers of customers, ensure communication is streamlined and departments aren't siloed.
Small and medium businesses and enterprises need to maintain clientele, nurture prospective customers and follow current customers through the entire sales pipeline and ultimately increase sales and client retention. Using a CRM for SMEs can help manage and track customer interactions, record history and customer contacts in a single place, improve customer relations and increase their satisfaction.
Deploying a CRM software is undisputedly a no question for enterprises. Using advanced CRM features including sales, marketing and customer support automation, reporting and analytics can drastically improve customer relations, maintain efficiency and project management between teams.
How does CRM work?
Whether you're considering on-premise or cloud-based CRM platforms, a CRM supports and streamlines your processes and helps maintain optimized customer relations.
A CRM system works by gathering customer data and interactions from various platforms such as websites, search engines, calls, emails, texts and more and integrating them in a single database. It provides sales, marketing and customer support automation to optimize workflow, collaborate and close deals.
It also provides reporting to help businesses come up with valuable insights, forecasts and develop better business strategies. In addition, it uses analytical tools to track leads, identify customer trends and personalize communication to enhance customer experience.
What is a CRM database?
A CRM database is all the information about customers' contacts and their engagements that the system collects and stores in one central place.
It includes:
Customer's contact information
Including name, email address and other information the system is customized to collect.
CRM systems pinpoint and collect the sources that leads and customers made engagement with your business through.
Interactions like signing up, receiving newsletters requests, sales, purchase history and payments made are collected.
CRM system tracks customers' engagement with your website, social media, and other engagements to provide reports and analysis.
What can businesses do with CRM?
Implementing a CRM platform can help businesses reap benefits that go beyond record and information keeping.
Benefits of CRM
Much of the CRM benefits are interrelated and conveniently lead to one another.
Organization
Sales progress task tracking
Increased sales
Personalized communication
Increased customer retention
Lead identification and tracking
Increased customer loyalty
Coordination between teams
Data analysis
Sales Forecasting
Why your business needs CRM
In essence, nurturing client relations is the core factor of the success of any business, and with proper implementation of CRM systems, businesses can improve stats and numbers including sales, customer retention and satisfaction, productivity and ROI. Effective implementation of a CRM system can boost teams' productivity, enhance lead qualification and converting for sales and marketing teams and empower customer service agents.
There is no theory about why CRM has gained popularity among businesses of all sizes and enterprises, take a look at the CRM stats illustrated below to find out how businesses improve using CRM systems.
Source: FinancesOnline 2020 CRM Stats
Keeping up with customer data streaming from a plethora of platforms and channels can be tricky without an implemented CRM system. Businesses need consistent, up-to-date and reliable customer data with no room for error, as well as a strategy to handle customer interactions, sales and targets to achieve and business objectives to reach.
Why CRM is important
A customer-centered business strategy is only efficient to implement with a CRM system deployed. In addition to stats and numbers, here's why CRM is important to your business and what CRM can help your business achieve.
Data centralized storage and accuracy
CRM allows you to keep all the data of your customer base and engagements in one place. This provides accuracy and updated information as well as history of customer interactions accessible across different departments who need real-time follow-ups with customers in different stages from qualification to acquisition like sales, marketing and customer support teams.
Cross-channel integration
CRMs facilitate data collection from multiple channels in a single database across multiple teams. Integrating with different platforms like social media, the business' website, and different apps, CRMs aggregate data to align efforts between teams and provide accurate reporting.
Improved productivity with automation
In addition to improved productivity between teams as customer data is accessible in one place, CRMs automate day-to-day and administrative tasks so that teams can focus more on doing their work. Automation not only helps with productivity, but also helps unify the brand's voice across multiple channels. Consequently, customers feel like they are talking to one person; this increases their retention, satisfaction and buying rate.
With the data in one place, team members picking up where the others have left, it's easy to keep track of prospects, leads and customers. Teams can stay organized with cross-team collaboration, unified communication, data entry and follow-ups.
A CRM provides customer interaction data across each stage down the sales funnel, this in turn makes it easier for sales teams to identify opportunities to convert leads. With data like customer behavior, history and patterns, sales reps can engage old and current customers, enhance lead management and conversion and boost sales.
Improved customer satisfaction
CRMs enable businesses to nurture clientele with empowered and personalized communication and enhance business strategies to provide customer satisfaction. With customer interactions recorded in one source, sales reps can offer personalized treatment, fix their issues faster and exceed customer expectations. This increases not only their satisfaction, but their loyalty to your brand.
Increased lead qualification and scoring
Marketers can better collect data about leads from various resources thanks to CRM software. They can streamline processes; segment leads, know who to outreach, qualify and pass to the sales team. Marketing campaigns automation and enhanced workflows are just a few of the benefits of CRM to marketing teams that provide data-driven insights on lead qualification.
Maintained branding and professionalism
CRMs can help maintain your brand's identity, voice and reputation by developing good customer relations; when there's a deployed thorough system revolving around and devoted to customer experiences, increased customer satisfaction can guarantee customer loyalty.
CRM integration with ERP
Businesses rely on complete business solutions to streamline their processes and optimize workflow. As businesses grow, so does the complexity of their environment and needs increase. To avoid dilemmas when it comes to making critical business decisions, businesses purchase and deploy an Enterprise Resource Planning (ERP) and integrate with Customer Relations Management software (CRM), if not look for an all-in-one business management solution.
CRMs enable integration with third-party systems like ERP systems and the advantages of combining handling front-end processes by CRM with back-end processes by ERP are numerous. Having a single place where all data is kept tabs on and tracked, by multiple teams from different departments, as well as integrated with other viable businesses' interactions, such as Finances, Accounting, Inventory, Operations, HR and other departments, certainly streamlines business and increases efficiency.
Integrating CRM with ERP systems increases accuracy in reporting and forecasting, boosts productivity and sales by providing advanced and integrative tools and increases customer satisfaction by providing complete, accurate and synchronized information about customers' history and interactions.
Advantages of CRM integration with ERP
Updated, accurate and complete customer data
With ERP and CRM combined, businesses can get a 360 degrees view of their clientele's profiling. Information like invoices, customer purchase history and financial and payment status can easily be tracked and linked with inventory; products or services stock count.
Improved customer satisfaction
Data consistency helps salespeople stay on a one-track line when it comes to communicating with customers. With data in one unified place, salespeople are able to cater to customers' needs and effortlessly find their data to provide a more personalized experience to them.
Operations between customer interactions and the system are synchronized and recorded. Data integration between CRM and ERP can allow processes' workflow automation, this streamlines and levels out operations in different departments.
Collaboration becomes much more efficient with data integration. Teams across different departments can collaborate, coordinate and exchange information from the same source, update or alter without duplication.
Free CRM software
Enerpize offers SMBs a free, reliable, cloud-based CRM solution. From simple features like contact management to a reliable database that is integrated with our complete business solution "Enerpize", you will find an all-in-one business solution that encompasses customer relations management in addition to modules that your business needs including Sales, Finances and Accounting, Inventory, HR and Operations.
You can try-test it yourself by clicking here, evaluate its features and capabilities and see if it suits your business needs. By choosing our free plan, you unlock not only the CRM, but all the other five modules that are fully integrated.