What is an invoice? The Complete Guide to Invoicing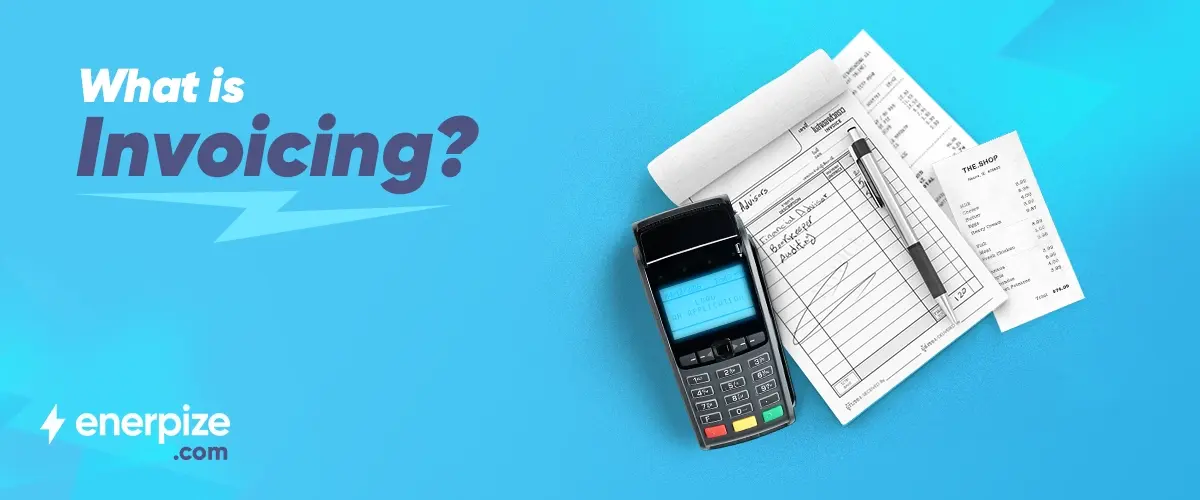 Issuing an invoice is an integral part of business communications; whether you want to charge a customer for purchased products or bill clients for rendered services, an invoice is not only a document that officiates payment, but more importantly, a business document that provides legal protection.
In this guide, we aim to take a deeper dive into invoicing. We will address what an invoice is, different types of invoices, how to create one, offer you templates and answer the most common questions regarding invoicing for businesses and freelancing.
What is an invoice?
An invoice is a financial document issued from a seller or service provider to a buyer or client that records business transaction(s) with a statement of the amount due for payment.
It lists all the products or services a client owes a business with an account of all cost details based on a certain agreement.
An invoice enables businesses to issue and collect payments from their clients. It helps reserve the seller or service provider's right for the purchased products or provided services owed. In addition, it is vital for keeping record of business transactions.
Functions of an invoice:
An invoice helps businesses keep track of products and services provided, total payment due and customer records.
It acts as a legal record with payment statement documentation and payment terms and conditions agreement in the invoice.
An invoice is an indispensable tool for accounting. It helps track payments due, taxes, sales performance and streamline business' books.
What does an invoice look like?
An invoice should look simple and short, readable and professional. It should specify all the proper information a client exactly needs to complete their payment.
An invoice should include:
Your business ID, name, logo and contact details
Your client's name and contact details
The word "Invoice"
Invoice ID or number
A list of all products purchased or services rendered
Total payment amount due
Applicable taxes
Payment terms and conditions
Payment due date
Invoice issuing date
This is a sample of how an invoice should look like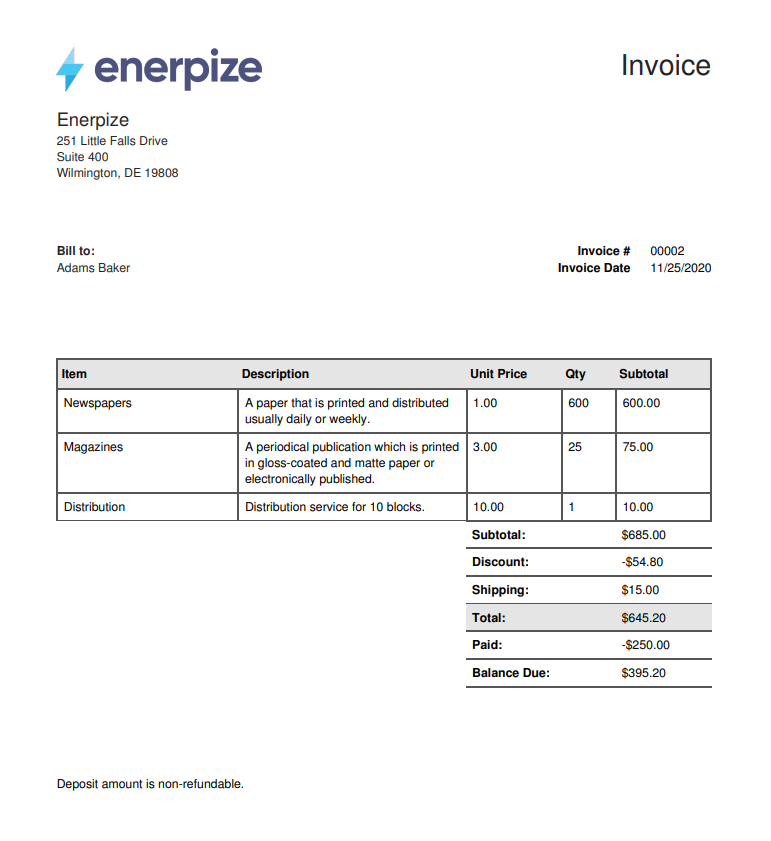 What is an invoice number?
An invoice number or "invoice ID" is a sequential, unique identifier assigned to an invoice. An invoice number is an essential part of any invoice issues. Not only does it look professional and help your business track payments and transactions, but also, without it, the invoice would be considered illegal. It must be readable and clearly stated in the invoice.
Assigning a sequential number ensures that each invoice has a unique number, eliminates duplication and keeps your records organized. The ID can contain only numbers or be a combination of numbers, letters and special characters. It should have no blank spaces in between.
It is not advised to assign the invoice number starting from "1", "2", then "3" and so on, as this could be confusing and inefficient, especially when your business is growing or you have multiple projects that you need to easily keep track of.
A common way of assigning the invoice number is by stating the number of the year the invoice is being issued. Another way is by adding a project's name separated by a hyphen next to the sequential number, that way it stays clear and organized.
Take a look at the following examples of an invoice number
By year number: 2020-001, 2020-002, ..
By year and date: 2020-28-11-001, 2020-28-11-002, ..
By year and project name: MC-2020-001, ..
By year, project name and client ID: MC-16-2020-001, ..
Keeping track of a sequential number and having to manually check the previous invoice number to assign a number to the next can be a tedious and error-prone task.
We recommend using invoicing software to keep your invoices and their numbering automated, your records saved, and focus on your business.
Does an invoice mean it's paid?
An invoice only serves as a legal record of a bill. It documents the products or services price per unit or hour, and the total amount due for payment. It notifies clients of the amount of money they need to pay and for what.
Therefore, an invoice is a request for payment from clients that is still due for payment.
Not to be confused with a sales receipt, a receipt needs to be paid. However, an invoice is received before payment to notify clients of the payment details as well as its terms and conditions and deadline.
How to format an invoice?
Getting all the information right is a crucial part of writing an invoice, and a well-formatted, professional-looking invoice can guarantee faster payments by clients.
The invoice should clearly state it is an "Invoice" at the top.
Keep basic information about your business at the header of the invoice. Include your business name, ID and logo.
The client billing information should be stated underneath your business details.
Include the invoice ID or number and the date of the invoice issued.
A list detailing the products purchased or the services rendered should be clearly written, beside a description of what the product or service exactly included.
Include the product(s) quantity purchased and cost per item. For services, include the net hours spent and hourly rate.
List additional charges, such as taxes, shipping fees or discounts.
Include the total amount due clearly after all calculations.
How to make an invoice?
To make an invoice, you have various options and platforms to choose from. You can choose to create your invoice using a word processor or a sheet. If you're a small business owner, invoicing your clients will be a vital part of your day to day business activities. You will need to create clear invoices with a design that aligns with your brand and reflects professionalism with your clients.
Opting to create an invoice from scratch is valid and applicable. However, to make your job easier, you can use an invoice template that you can refill as required, as well as look professional and remain consistent with clients you would like to bill.
Here are some free invoice templates for various platforms we have included that you can download, re-use and start invoicing clients.
Free invoice templates
Download Free invoice template in word
Commercial Invoice Free Word Template
Tax invoice free word template
Proforma invoice free word template
Download Free invoice template in excel
commercial invoice excel template
Free Proforma Invoice Sample for Excel
sales invoice excel template
tax invoice excel template
Download Free invoice template in Google sheets
Download Free invoice template in PDF
Sales invoice pdf template
Tax invoice pdf template
Commercial invoice pdf template
Pro Forma Invoice Format pdf
Download Free invoice template in Google docs
Download Free invoice template in LibreOffice
Commercial invoice libre office template
Sales invoice libre office template
Pro forma invoice libre office template
Tax invoice libre office template
If you're in the process of upgrading the way you do invoicing, streamlining your business transactions and client relations, we recommend taking your invoicing to the cloud. Enerpize offers a free online billing & invoicing software that helps you automate invoices, track your payments, optimize your books, invoice your clients on the go, from any device and get paid faster.
How to make an invoice in Word?
Microsoft Word offers customizable invoice templates that can be easily used.
Open a word document
From File under 'New', click more templates and use the search bar to filter 'invoice'
Choose the invoice template that fits your business needs.
Start customizing by filling in your information in the template.

Upload your logo.
Fill in your business information
Fill in your client information
Enter the invoice ID and date of issuing
Fill in the list of products or services
Fill in the quantity of products purchased or the net hours spent rendering the services.
Include a brief description of the product or what the service included
Include the subtotal, applicable taxes and the total amount due.
Include your terms and conditions, the accepted payment methods and the due date of payment.

Save your invoice and send it to your client.
How to make an invoice in Excel?
Open a new excel sheet.
From File, click 'New'. Use the search bar to search for 'Invoice" in the templates
Choose the invoice template that fits your business needs.
Start customizing by filling in your information in the template.

Upload your logo.
Fill in your business information
Fill in your client information
Enter the invoice ID and date of issuing
Fill in the list of products or services
Fill in the quantity of products purchased or the net hours spent rendering the services.
Include a brief description of the product or what the service included
Include the subtotal, applicable taxes and the total amount due.
Include your terms and conditions, the accepted payment methods and the due date of payment.

Save your invoice and send it to your client.
How to send an invoice?
It is optimum to send an invoice via email; that way, it doesn't get lost, you can easily track it as it is documented in your mail list, and keep a record of the sending date when it is time to follow up on payment collection.
Notify clients of the invoice before sending
Settling an agreement with clients about the invoice details before sending it sets your clients' expectations and guarantees faster payment. It could be at the start of the business agreement. Notify your client with the invoice payment methods and make sure it is feasible from the client's side.
Use an invoice email template
It is always better to use an email template that you can refill for multiple transactions for consistency and record-keeping purposes, especially if you find yourself dealing with a fair amount of invoices.
Send the invoice as an attachment
Attaching the invoice in a non-editable manner can help protect you against fraudsters who might try to manipulate your invoice. Attach your invoice as PDF or send it online rather than bulking it in the body of the email. It is a more secure, professional way to approach your clients. In addition, it is easier to track and save a copy of when needed.
Keep a professional, courteous tone
The email should be short, direct, with the invoice number in the subject of the email and the invoice attached. It is a short summary of what is included in the invoice, plus it should clearly emphasize on the payment due amount and date of when you expect to receive the payment..
Make sure your clients know how to get back to you shall they have questions about payment and include a thank you note for collaborating and doing business.
How to follow up on invoice payment
Follow up with your client with a friendly call after sending the invoice to ensure the client has received it and the terms and conditions of the invoice payment are as agreed.
Invoice payment reminders
Schedule a friendly payment reminder email if you find that the payment is pending and the deadline is approaching, preferably a week before the deadline. Opt to use invoicing software to automate this process, use an email reminder template and save yourself the hassle of manually revisiting dates.
Following up on overdue payments
Adopting professional communication is a crucial approach when it comes to dealing with overdue payments. Consider sending an informative email stating that the payment is overdue and asking when it is expected to be paid. The next step should be to send a second email or make a phone call, stating that it's unfortunate that you have to charge the late payment fees as stated in the payment terms of the invoice.
Lastly, resort to informing your client of having to take legal action.
Use online invoicing software
Using an online invoicing software can streamline your invoicing processes and help you manage your clients efficiently. With invoicing software, you can automate your invoices, use ready-made templates without having to craft one from scratch, attach receipts, your terms and conditions, auto-email and send reminders to clients for follow-up and overdue payments.
Moreover, online invoicing is a safe and secure gateway for issuing invoices as it leaves no room for fraudsters to manipulate your invoice.
It also offers multiple payment gateways which facilitates payments on the clients' side.
Our invoicing software is integrated with our Sales and CRM module where you can have your list of registered clients, issue invoices without duplicates or re-entering clients' data and get paid in no time.
How to pay an invoice?
Whether you are a client who has received an invoice from a business, or a business who wants to fulfill payments to their vendors and suppliers, choose a payment method that is most suitable for you. You can pay an invoice using one of the following payment methods
Pay by cheque
Pay cash
Pay by credit or debit card
Pay using an online payment gateway
Tips for paying an invoice
Review the invoice for accuracy
It's important to review your personal information for accuracy when you receive an invoice because you want to make sure the invoice is directly issued to you before payment. Confirm your information is written accurately, the terms align with the agreement that has been made and that you're paying for exactly what you've been offered.
Review the terms and conditions and payment due date
Make sure you know the deadline for the payment so that you're not overcharged with late payment fees. Review the payment terms as most times there is a discount issued for early payment that you can make use of.
Payment in a timely manner establishes good relations; for clients and businesses likewise. Using an online invoicing and billing software enables you to automate your billing and payment process, set reminders, scheduled payments and never miss payment dues.
What is a commercial invoice?
A commercial invoice is an invoice issued by a seller or exporter to a buyer or importer requesting payment for an international sale transaction. It includes information such as goods or products' details, shipment details and custom and tax duties. It is a legal document that guarantees proof of international trade. And it is required for payment and custom clearance purposes.
The information on a commercial invoice includes
Seller or exporter's information
Customer or importer's information
Goods or products with description
Weight of goods
Shipment and payment details
Terms and Conditions
What is a sales invoice?
A sales invoice is another term for "invoice". It is a financial document issued by a business to a client to request payment for products or services. It is used to record a business transaction. A sales invoice, just like a typical invoice, includes the invoice number, issue date, business and client information, products or services rendered, the taxes and amount of payment due.
What is a proforma invoice?
Similar to an estimate, a proforma invoice is a preliminary bill stating a price agreement between a business and a client for products or services. It is sent before product shipment or a service provided is complete. Its purpose is to form an agreement between both parties to adhere to and is subject to change after the product or service is provided.
A proforma invoice cannot be legally referred to when it comes to accounting and bookkeeping purposes. An official invoice must be issued to document the final price that is needed for payment in the transaction.
What does net 30 mean on an invoice?
When "Net 30" is stated in the payment terms on an invoice, it means that the payment due date is within 30 days after the invoice issue date. Similarly, you can find credit terms such as net 10, 60, and 90, but net 30 is the most common.
Often, businesses offer discounts if the payment is completed before the duration of 30 days. For example, if you find "15% 10, net 30", it means that if the payment is completed within 10 days and not 30, clients can get a 15% discount on the total invoice amount.
Simply put, net 30 on an invoice means payment is due in 30 days.
How to write an invoice for freelance work
Invoicing for freelance work is an essential part of every business process or freelancing gig for freelancers and self-employed. Not only does it make you look professional whether you're dealing with individual clients, small business owners or large enterprises, but also it keeps your work organized, your payments tracked and your freelancing business in check.
Verbal agreements are a good way to start the business but eventually, issuing an invoice legalizes the agreement, builds good habits with clients and speeds up getting paid.
Writing an invoice isn't complicated, nor does it require fancy design or language. If you're here by now you understand that an invoice should be clear, simple, direct and informative. And we'll walk you through what you need to include to start invoicing.
You don't have to put your logo if you don't have one, but it does serve a professional-looking image. You can use a free tool like Canva to create your business logo design or hire a designer to make you one.
Write down your business name, if you don't have one you can state your name in bold.
Include your business or tax ID for the invoice to look professional and secure.
Include your business contact information like your website, address, number and any additional information that can facilitate clients reaching you regarding the invoice.
Include your client information like their name, or the name of the person who hired you if you're dealing with a corporate. Typically, the client information is included opposite your contact information in the header, but you can also include it underneath your information.
An invoice number or ID is helpful in tracking invoices and payments. We have answered questions about what an invoice ID is and how you can write one in this guide above.
Make sure to include the date you have issued the invoice for record-keeping purposes.
Write down a thorough itemized list of the services you have provided as per agreement with the client so that clients know exactly what they are paying for and your efforts are reserved.
Include the name of the service.
Write a detailed description of what each service included.
Include the hours spent on each service.
Include your hourly rate for each service.
Include a calculated total amount of money due for payment by the client and include the currency.
Clearly format a payment due date so it is clear for the client when you expect to be paid.
Payment terms and conditions
Specify your payment terms and accepted payment methods to make your invoice clear and aligned with your business agreements. Your terms should handle late payments, whether you decide to charge a late payment fee or not and what payment methods you want to be paid with.
Accepted payment gateways
State your accepted ways you would like to get paid by the client, for example, if you would like to get paid by paypal, it's good to include your email.
You can include an early discounted percentage of the total amount due. This is an optional method you can resort to if you would like to encourage faster payment by clients.
Another thing you can optionally do is assign a late payment fee if clients have not issued their payment in a timely manner.
It's important to keep the communication courteous and thank your clients for doing business with you.
Why you should use an invoicing and billing software
An invoicing and billing software can optimize and streamline your invoicing process from creating it, sending it, following up with payment and getting detailed reports.
The benefits are countless, whether you're a freelancer or a small business owner, resorting to an invoicing software is bound to provide your business an all-in-one, reliable and integrated solution to run it smoothly.
Automated, customizable invoicing
An invoicing software takes care of your invoices; you never have to re-enter your data every time you wish to issue an invoice. You can use a pre-saved template that you can customize and edit the necessary information. This empowers your business' brand as it creates brand consistency and credibility.
In addition, you can automate your workflow with automated recurring invoices, reminders and automated follow-up emails to clients to ensure your communication is intact and your payment will be received in a timely manner.
Multiple payment gateways = Faster payments
Good invoicing software offers multiple online and offline payment options that facilitates, secures and simplifies clients' payments. It also offers the option of automating your payments.
With invoicing software, you keep all your records and invoices in one secure place, without having to worry about paper trials or invoice numbering. You can track and review any invoice, any time and from any device.
Operations integration for freelancers
An integrated invoicing software allows you to time track your projects, assign billable hours to invoices and invoice your clients for the time spent on the service rendered effectively.
Whether you're a seller or service provider, an all-in-one invoicing system is integrated with sales and inventory management modules, which makes the process of creating an invoice expeditious. Your products or services can be saved with their price or hourly rate per service to easily maintain your records and data entry.
CRM integration = Better client relations
As a freelancer or business owner, your biggest goal is to maintain and retain clients, and it's a no brainer how CRM integration in an invoicing software supports such an objective. Using it, you sustain better client relations by maintaining clients' information and records. It helps you personalize communication, track your clients' business transactions and payments and follow up with them in a professional manner.
Enerpize offers free invoicing and billing software that supports your business to do just that and more. Our software is a complete business solution that helps you manage your invoicing and business effectively. Integrated with our Sales, Accounting, CRM, Inventory, Operations and HR modules, streamline your business activities including invoicing, upfront payment and real-time reporting.
Choose your industry and register with our free plan to access all our modules and take your invoicing to the next level.