How to choose the perfect chatbot builder - Top 7 chatbot builders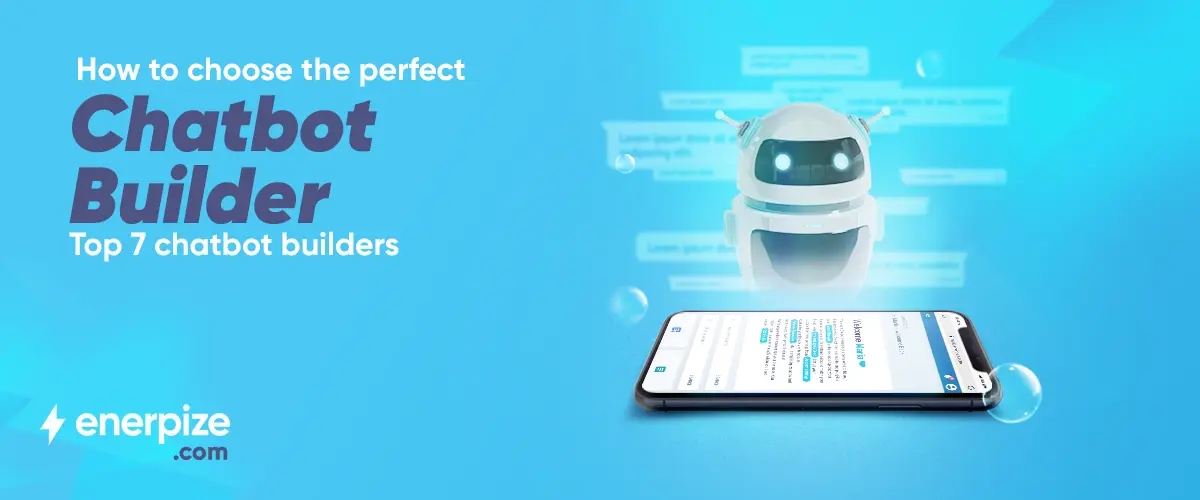 Nowadays, on almost every website you visit, you'll find a pop-up thing that appears to you asking if you need help with something. This thing is called a Chatbot, and many websites use it to help improve their clients' experience when they visit the website.
For example, they help you from the smallest things like answering simple queries to big ones, like completing a purchase order for you. There is no doubt that if you invest in building a chatbot for your website, it will help you tremendously with many issues that you might face. So many platforms and builders help you with setting up your chatbot.
What to look for in a chatbot builder?
The first thing to look for in any chatbot builder that you meet is whether it needs you to have experience in coding. This will determine if you will need a team of developers to help you while setting up the chatbot on your website.
The second thing to look for is if this building platform offers you a free version or trial or not. You will realize that it's very important to try first the chatbot builder to see if it's suitable or not.
The third thing, if they already have a template of a chatbot that accommodates your type of industry. In order not to waste time in creating and building it from scratch.

We have assembled for you a list of the most reviewed chatbot builders in the industry.
Top 7 chatbot builders:
Here are the best chatbot builders and the best service providers that you can filter and choose from:
Chatfuel is one of the most famous chatbot builders that help you set up your chatbot using Facebook Messenger. And the good thing about chatbot builders that use the social media platform is that you don't have to build it from scratch. You simply use it for your website to help your clients to be directed to your business profile on Facebook.
You can decide if you want to put a preset menu for clients to choose from, and this is a helpful thing if you think about it that can improve your customer's experience considerably. There are also many pre-made templates that you can use and set up. Imagine that you can set up and running within 30 min with this builder. And that what makes it one of the simplest and easiest builders that you can use.
As for the cost, there's a free option that you can use, or if you have the means you can subscribe to the paid plan, which will always be a good option, The paid plans start at 15 $ per month.
Mobile Monkey is also one of the best chatbot builders that use social media platforms like Facebook Messenger and Instagram. Moreover, you can set up a web-based chatbot with no prior knowledge of coding. It's quite easy to use, not complicated at all. You can choose from many templates that they have ready.
This Website is considered the favorite for marketers out there, it has many features that help you market your business. It gathers leads while interacting with your clients, then these leads you later can export in an Excel file. Furthermore, you can use it in your marketing strategy, by connecting you and attracting a wider group of potential leads while adjusting your drip marketing and campaigns. So it's like you have 2 in 1 tool, a chatbot builder, and a marketing tool.
MobileMonket has a free plan that you can subscribe to, and their paid plans start from 14.25/month.
ManyChat is another builder that uses Facebook Messenger. So, It means you don't ought to have any knowledge of coding, plus it's very easy to use. All you need to do is to set up your Facebook page and boom you're ready to go. The great thing about builders that use Messenger is you easily use it for marketing your business. Because it helps you gather potential leads that you might want to take notice of, and these leads could lead to sales, so you're in a win-win situation.
The platform also offers you many integration options that you can choose from, like Shopify, Google sheets, and even PayPal. Manychat also offers you many tutorials on how to set up your chatbot and how to maximize your marketing results.
There is a free version that you can use to get a feel of the platform. As for the paid versions, it starts at 10$/month for the Pro plan, and it gives you 500 subscribers. If you want more, there's a plan for 25k subscribers for 145$/month.
Flowxo is a great solution for you if you desire to set up your chatbot on multiple platforms, not limited to one platform like Facebook messenger. It helps you build your chatbot without any coding.
You can build your chatbot, add features, and deploy them on many platforms while integrating it with 3rd party platforms as well. You can choose between more than 100 integrations that you can add while setting up your chatbot like Google Sheets or Linkedin.
Flowxo has a free version, but it's limited to only 500 interactions. However, you can still access all the features, and build up to 5 bots. The paid Plans start at 15 $ per month, and it gives you 15 bots and 5000 interactions, which you can increase up to 25.000 by adding 25 $. You can also add 10 $ to the plan if you want to add 5 more bots to the original 15.
Pandorabots is a fantastic option if you have some decent coding knowledge. You are going to be able to experiment a little bit while building your chatbots, which will give a huge room of flexibility to develop and customize your bot as you want. Moreover, the factors that make this platform great are, it's a multilingual platform, and it's one of the oldest and experienced builders. Therefore, if you choose this builder, it will not be in any way a waste of time or disappoint you.
Its only disadvantage maybe it's not for beginners, and it will be more beneficial if you have a team of developers who help you along the way to build your dream chatbot.
As for the pricing, there is a free option where you get up to 1000 messages/month and can build up to 2 bots. The paid options start at 19 $ /month for the developer version, 199 $ /month for the Pro version, and there's a custom plan for the Enterprise version.
Tidio is a popular option for building chatbots, especially for SMB. It also helps you integrate with many 3rd party platforms and apps, like Zapier and Messenger. Tidio also offers plugins to Shopify and WordPress sites. It's easy to use the platform and straight forward for you to set up your chatbot and get it running in no time. The platform has an exceptional support team that will help you 24/7.
They have several free templates, you can take a quick look at and choose the most suitable for you.
They offer a free plan and the paid options start at 18 $ /month.
Tars is also a very convenient option for marketers as it increases your PPC (Pay-Per-Click) in your ad campaign. Tars have over 600 templates of a chatbot that you choose from. Whatever your type of business is they have a template ready for you. The builder also doesn't require any coding or development experience.
They help you set up a web-based bot on your website and run it in no time, free of hustle and bustle. Tars like we mentioned help you increase your PPC by putting all the focus on building your chatbot to help gather more leads for your business.
The only downside to Tars is that there's no free version that you can use and it has quite expensive plans. They start with 99$/month for 1 chatbot and 500 chats/month. On the other hand, if you want the whole marketing gig and tools the plans start at 499$/month. But don't be discouraged there's a free 14-day trial to see if this builder is worth it.