How to Optimize Your Business Thanks to Accounting Software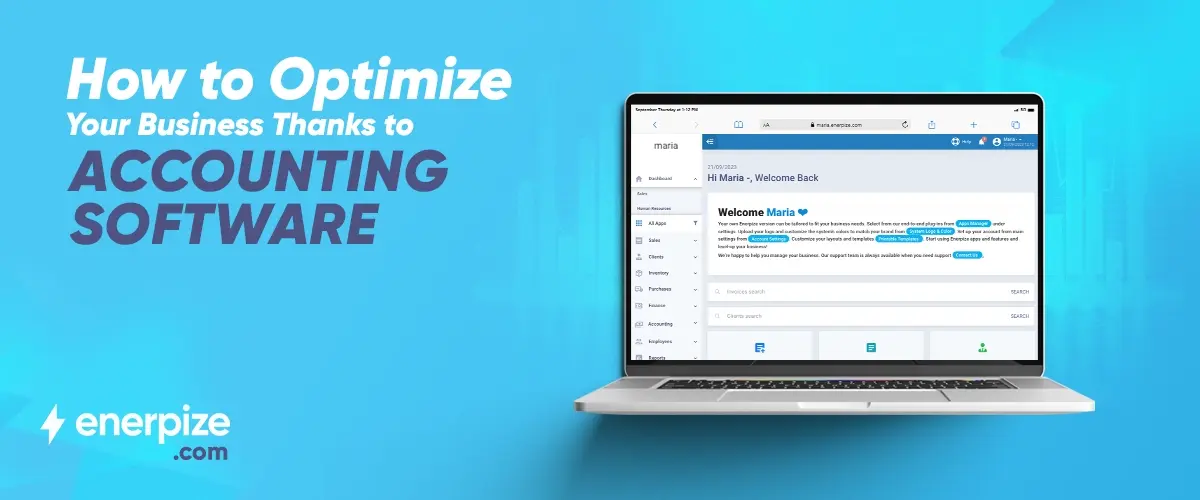 Accounting is one of the most crucial parts of any business. Aside from being a complicated subject, it is also time-consuming for accountants and bookkeepers. Hence, every business would immensely benefit in an accounting software to help accounting professionals manage their business finances more effectively.
Moreover, accounting software speeds up financial processes by eliminating manual work. Generating reports can be more manageable, allowing you to clearly and accurately see your business's financial health. To learn more about the importance of accounting software, you can read this article that discusses six reasons why you should use online accounting software.
If you are in the process of selecting an accounting software for your business, it is vital to know some accounting software features and benefits like billing, invoicing and reports to help you get started. Once you have selected an accounting software, the next question that comes into your mind is how to optimize your processes using it. This article will answer this question by discussing five ways to optimize your business using accounting software.
Gain insights to increase sales
An accounting software brings about many benefits to businesses as long as you know how to optimize it. The best example of this is utilizing accounting software analytics to help understand your customers better. Understanding your customers allows you to boost your business sales.
Through accounting systems, you can monitor your business expenses, revenue, and highest buying trends. These data let you identify the products that sell the most, the customers who buy them often, and their usual spending. Thus, it helps you evaluate your sales strategy and determine what needs improvement.
Furthermore, it also lets you know what products do not sell to help you make wiser purchases. Then, you can consider selling these products at a lower price or phasing them out eventually.
Managing sales tax
Manually managing your accounting processes can be challenging, especially when it comes to dealing with quarterly and year-end taxes. As long as your business is operating, you will have to deal with daily sales tax, which is undeniably stressful for bookkeepers.
One of the benefits of accounting software includes efficient sales tax management. Monitoring the changing rates, holidays, exemptions, and rules can be relatively less complicated.
Additionally, with the help of accounting software, you can automate the calculation of your sales tax. This automation reduces errors and ensures the accuracy of the results.
Improved customer service
According to Statista's data, approximately 1.51 million people were employed in the accounting industry in the U.S in 2019. Given this data, it shows the number of professionals who need accounting software solutions to make their daily lives more comfortable. This software not only simplifies complex and repetitive tasks but also drives business growth by helping you manage business processes and customer relationships efficiently.
Through accounting software, you can ensure that your financial records are up-to-date and accurate. You do not have to spend time working on complex tasks but instead focus on crucial to-dos.
Rather than spending your time managing processes that you can automate, you can focus on improving customer relationships using the customer data you gathered to provide a more personalized service. For example, by spending a specific amount from your products, you can give them a free gift based on their preferences.
Also, this enables you to respond to their queries and concerns quickly. Aside from effective sales strategies, providing excellent customer service is a great way to boost sales.
Manage supply chain
Tracking orders and deliveries are essential for any business. By doing so, you can determine your business spending, income, and stay updated with your target revenue and deadlines. For more manageable inventory management, accounting software should make it easier by automation.
Although inventory management is not a standard feature of accounting software, its presence can help you complete transactions faster, increase efficiency, minimize financial losses, improve cash flow, and keep an organized warehouse.
Automate your back office
Managing finance and accounting processes can be quite a time-consuming and cumbersome task. However, instead of manually managing these processes, you can automate them for a more efficient and consistent workflow.
Besides, by automating your back office, it shows the transparency of all transactions and activities. Thus, it ensures accountability and generates more accurate reports.
How to optimize with accounting software: What's next?
Now that you know how to optimize your business with accounting software, you can focus on finding the best solution that fits your needs. The points mentioned above give you an idea about the essential features that you will need. Also, this can help you implement them effortlessly.
However, if you are struggling to choose one, it would be best to analyze your needs and skills first. You can then search for a specific accounting software's advantages and disadvantages to determine how it can help and affect your business. This part may be crucial since it can include a brief overview of its features and capabilities. If you are looking for an accounting software that can help you address various business challenges like sales management, finance management, and bookings, you can start your search with Enerpize.
Alternatively, you can consider asking for the opinion of your accountants and bookkeepers. As professionals in the accounting industry, they might have a few recommendations on what solutions work best. After all, they are the ones who will benefit most from excellent accounting software.