10 Best Free Video Editing Software Programs for your Business: Desktop, Mobile and Both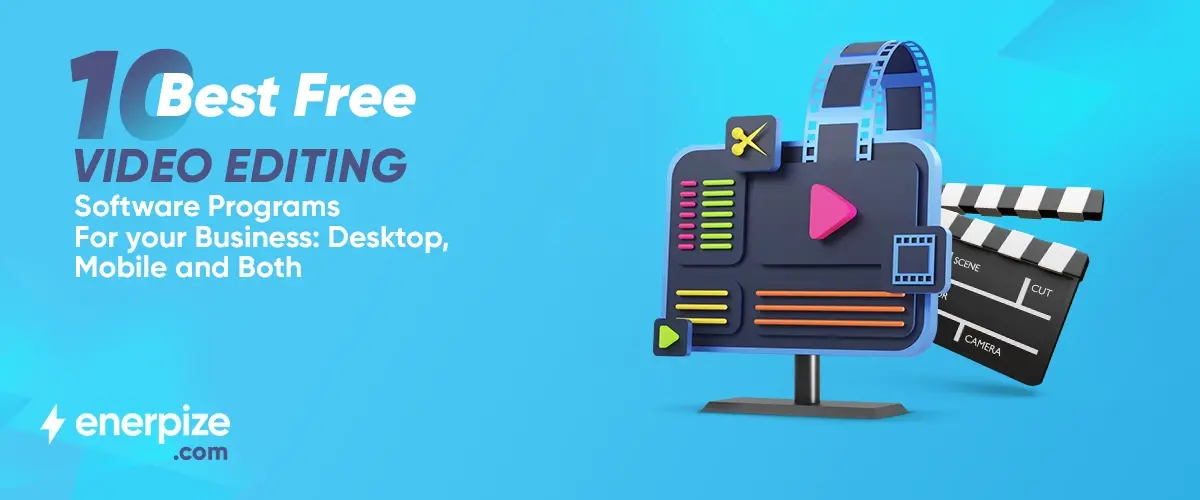 Creating video content is an indispensable part of the success of any business strategy. And using video editing software is no different. Whether you are creating informative, educational, promotional or entertaining video content, audiences respond highly to video content. So whether you are a youtuber, own a business or an entrepreneur, your videos can develop and sustain a connection with your target audience, increase brand awareness, visibility and loyalty, as well as audience attraction and engagement.
Video content paired with creativity and a good video editing software can be used to promote your services or products, drive audiences to purchase, be a medium for affiliate marketing, and increase conversion rate.
On the plus side, your video content creation and editing needn't be costly or time consuming when it comes to learning, we've curated a list of some of the best, free and fairly easy to use video editing software available. If a video marketing strategy is an integral marketing tactic in your business, consider investing in a good video editor, however, we recommend you try the free version first to get the hang of how the software looks and what it features.
Here's a list of 10 best free video editing software for desktop and mobile devices with their pros and cons so you can viably compare between them and reach an informed final verdict about which one suits your needs more and is worth giving a go.
Best free video editing software for desktop
1.OpenShot
OpenShot video editor is the go-to for beginners and small businesses, yet does not fail advanced users as well; it is easy, simple to use, 100% free and open-source and available without watermark.
Pros
Simple, friendly and efficient user-interface with drag-and-drop editing.
Safe to download from website.
Its rich features include cutting, trimming, slicing, cropping, splitting and merging videos, plus adding video effects, transitions and audio editing.
Has a good learning curve with a built-in tutorial and video how-to tutorials.
Cons
Takes a longer than expected time to render and export video.
Available for
Windows, macOS and Linux.
2.Lightworks
Lightworks is a powerful, intuitive, cloud-based video editor for all types of video editing projects. Taking part in the Hollywood movie industry, it is equipped with professional functionality and packed with robust features ranging from basic to advanced.
Pros
Easy and self-explanatory.
Multiple video format support in the same timeline.
Enhanced VFX panel.
High-precision video trimming.
Cons
Limited features with free version.
With a wholesome package, learning toolkit and features curve exists , especially for beginners.
Available for
Windows, macOS and Linux.
3.DaVinci Resolve
"Even the free version is Hollywood grade." Says a small-business owner about DaVinci.
Offered by Blackmagic Design, DaVinci Resolve's sleek user interface allows you to move between editing, colors, effects and audio in one click. It even competes with Premiere Pro. It is a professional, all-in-one video editing package that is the choice of editors, colorists and filmmakers especially for its color grading and correction Hollywood-fit tools.
Pros
Professional audio mastering, special effects and color grading suite.
Multi-user friendly and allows collaboration on projects for teams.
Multi-cam editing feature.
Professional media and post-production delivery.
Watermark-free.
Cons
Requires a fairly powerful, high-end computer.
Is cumbersome to learn.
Available for
Windows, macOS and Linux.
4.HitFilm Express
An advanced all-in-one video editor and VFX software, HitFilm Express's features ranges from gaming, 2D and 3D compositions to simple video editing. It's perfect for filmmakers, gamers and Youtubers.
Pros
Professional-grade software.
Rich editing, color grading and VFX features.
Free instructional videos.
Cons
Requires a high-end system.
Steep learning curve for beginners.
Installation is not so smooth. (asks you to post about it on social first)
Available for
5.VSDC Free Video Editor
VSDC is a powerful, all-around, non-linear video editing suite. It features multi-color chroma key tools, a wide array of video effects and transitions, color correction and audio editing.
Pros
Non-linear video editing.
Powerful features and capabilities.
Cons
Support is not free in the free version, only free in the paid.
Overwhelming UI.
Available for
Best free video editing software for mobile
If you need to shoot, edit and upload or share, all using the same device, be sure to check some of these free mobile video editing software.
1.Quik
GoPro's Quik is for video editing on the go. It has auto-editing features that makes the editing process fast. It searches your footage, finds key moments and automatically creates videos with transitions and video effects.
Pros
Auto editing, trimming and adding transitions.
Cons
Less editing control.
Limited features.
Available for
2.Magisto
Similar to Quik, Magisto automatically edits and creates videos from footage powered by AI. Suited for business video editors for lead generation and brand awareness, video marketers and social media content creators.
Pros
Easy to use.
Works well for work, business and brand promotion.
Cons
Limited video time (150 seconds), longer needs to upgrade to professional plan.
Available for
3. KineMaster
A Powerful mobile video editor, KineMaster has advanced features in a simple interface that can make you create a professional-grade video with the ease of your mobile device.
Pros
Advanced features.
Video layering, chroma key and 4k resolution.
Cons
Watermark exists in free version.
Reportedly crashes often.
Available for
Best free video editing software for both desktop and mobile
1.Adobe Premiere Rush
A cross-platform video editing application, Adobe Premiere Rush is the go-to platform for quick and functional video editing. With its simple GUI and intuitive features and layout, it's the choice of Youtubers and social media content creators.
Pros
Simple interface with most basic features.
Professional video editing tools simplified.
Cons
Slow rendering.
Lacks advanced features.
Available for
Desktop (Windows and macOS)
Mobile (Android and iOS)
2.iMovie
With its intuitive UI and drag and drop feature, Apple's iMovie is relatively easy to use. It's best suited for beginner Mac users as it's an easy editor to get started with.
Pros
User-friendliness and ease of use.
Accessibility on mac devices.
Cons
Less customized effects and transitions.
More advanced users will need to explore other software.
Available for
(Both desktop and mobile) macOS and iOS only.